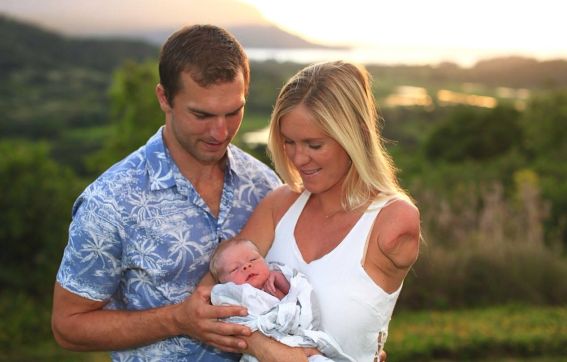 It's a baby boy for Bethany Hamilton and her husband Adam Dirks!
The couple, who starred on the 25th season of The Amazing Race last year, announced via Bethany's Facebook page that they welcomed their first child on June 1. They named the baby boy Tobias.
"Blessed to welcome our son, Tobias, into the world," Bethany posted. "Born June 1st, 7.9 lbs. and 21″ long. He is named after his great grandpa Tobias meaning 'The goodness of God.' Adam and I are so in love with our lil guy and are stoked to share life with him!"
In February, Bethany and Adam, who finished third on their season of 'The Amazing Race,' announced that they were expecting a baby. Bethany, who lost her left arm in a shark attack in 2003, continued to surf throughout her pregnancy, often posting photos of her in the ocean to her Twitter and Facebook accounts.
During her pregnancy, Bethany talked about how she will deal with the aspects of parenting that may be hard for someone with only one arm.
'I've been kind of thinking about it, but I often forget that I have one arm," Bethany said in their pregnancy announcement video. "But when I think about a squirming baby, changing the diapers could be really challenging. But how I live life now, I just adjust and adapt to different things, especially to things that are a lot easier with two arms…I'll just have to find my own way to take care of the baby and of course I'll have Adam to help."
(Photo: Facebook)