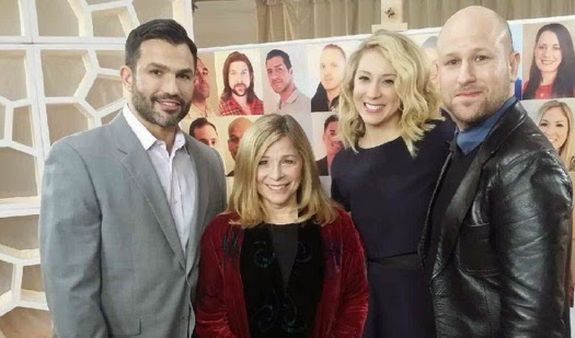 The Married At First Sight Season 2 reunion doesn't air until tomorrow, but there has been plenty of drama going down with the cast over the weekend! As The Ashley told you (first!), a commenter on a TV message board who claimed to be part of the show's production staff made some outrageous claims about the show– from how the Season 2 men were cast, to the crazy things that he/she claimed happened in the time between the filming of the 'Decision Day" episode and the reunion special. The commenter stated that Ryan De Nino had a cocaine problem, and that his wife, Jessica Castro filed a protection order against him because she was afraid after he allegedly threatened her and her family.
The message board poster also stated that the three men of Season 2 were quickly cast, and did not undergo all of the testing that the Season 2 women and Season 1 cast did.
The show's experts– sexologist Dr. Logan Levkoff, spiritual adviser Greg Epstein and psychologist Dr. Joseph Cilona–are speaking out about the commenter's claims about lax casting practices."There was no male casting done," the commenter on the message board wrote. "One guy was found on match.com, one on Facebook because he had acted and modeled prior, and one was a friend of a contestant on season 1. NONE of these men wanted to be married. They all wanted to advance their careers or have "fame." The producers sold them that way." (The Ashley was able to confirm that Sean did indeed know Season 1's Doug Hehner, and Ryan De Nino acted and modeled before appearing on 'MAFS'.)
The experts defended the process they used to cast the people featured on Season 2.
"Our process is legitimate and rigorous with psych evaluations, background checks, questionnaires, interviews, and a multitude of assessments of different varieties," Logan Levkoff  wrote on Twitter. "I feel terribly that any of you have been led to think otherwise.
As for marital success, while we want all of our couples to work out, there is no guarantee. No one has ever said that this was easy. If relationships and marriages were easy, we would have no participants.
"What is sad, to me, is that unfounded and inaccurate stories about our experiment undermine the emotional and physical work of so many people involved, our participants included," Dr. Levkoff continued. "That being said, I understand that some of our participants may be unhappy with how things transpired for them. But all of us involved entered into MAFS with the best of intentions and with a hope and a belief that we were a part of something special. I still believe that." (Click here to read her full statement.)
Dr. Cilona also spoke out and encouraged viewers not to believe random Internet posters.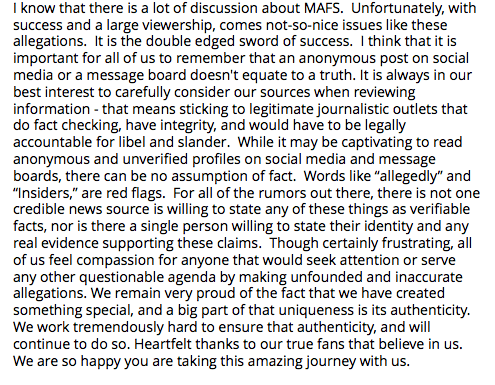 While The Ashley absolutely agrees with this, she must note that at least some of the things that the poster stated have turned out to be true. Of course, that does not mean everything that person wrote is true. However, Ryan proved on Saturday that at least the part about Jessica getting a protection order against him is true. He posted a copy of the protection order to his Instagram account, in addition to several other posts that accuse Jessica of making fake Instagram accounts for him.
In an exclusive interview with The Ashley in March, Dr. Cilona provided some insight on how much time and effort went into picking the matches for Season 2.
"I think the viewers would be extremely surprised at how much time goes in to this process," he said. "The data yielded by my assessments of the finalists for Season 2 was over 3,800 pages! I had data on each individual that averaged about 150 pages each. It took me almost 400 hours to go through all of that data to come up with my recommendations for matches."
Greg Epstein echoed the other experts' sentiments.
"Logan already responded well-she speaks for me about this," he tweeted. "Sad to see untruths spread but proud of our work…Yes-truth comes out eventually. It will. We're proud of our process; it's serious, intends best."
The situation continues to get messier by the day. Several Season 1 cast members stated their opinions on the Ryan/Jessica situation over the weekend. Jason Carrion stated that the commenter's claims that he and his wife Cortney made $20,000 an episode were false. He also posted several social media posts that showed his alliance to Ryan De Nino, which didn't make him very popular with many disgruntled fans…or Season 2 cast member Davina Kullar, for that matter. Davina allegedly posted the following to her private Facebook page, calling out the Season 1 cast members who she felt defended Ryan De Nino's behavior.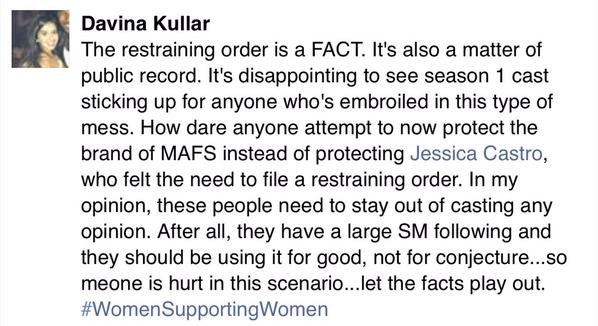 Season 1's Jamie Otis also spoke out on the allegations.
"In no way whatsoever would I ever support & encourage someone who is mentally & physically abusive towards another person," she tweeted on Sunday. "I strongly encourage abused to stay away & abuser to get help. Both need counseling, albeit for different reasons. #NoToleranceForViolence"
In a comment on his Instagram post, Jason later clarified that he was not talking about the restraining order drama in his post.
To read a summary of all of the 'MAFS' drama that went down in the last few days, click here!
To read The Ashley's full interview with Dr. Joseph Cilona, click here!