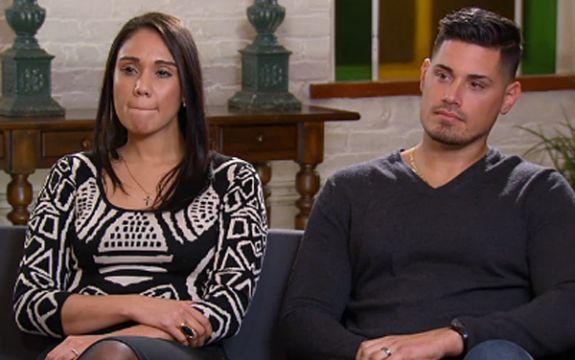 The Married at First Sight Season 2 reunion airs tonight, but after all the controversy with its stars over the past week, it seems that the better show is off screen. As The Ashley told you, Jessica Castro has filed a protective order against Ryan De Nino, the man she married on the show, and today, the New York Post released portions of the protective order's dialogue, revealing what made Jessica file the order against her husband.
The newspaper reports that, according to the petition filed in Queens Family Court on Friday, Jessica stated that her marriage has been over since February, when she caught Ryan cheating on Valentine's Day! After that, Jessica claims that her relationship with Ryan became so volatile that the show's production company provided her a security detail to allegedly protect her from Ryan. She stated that Ryan threatened her and her family sometime in March.
"I will break you into f—ing pieces," Ryan allegedly told Jessica, according to the petition. "I will break your dad into pieces. I will make your whole family disappear — and your f—ing dog-ass sister's boyfriend."
After Ryan allegedly made threats against Jessica during the taping of the reunion special in May, she claims that she feared for her life.
"According to the petition, De Nino was caught on a live mic saying, 'She's f—ing dead. When I get back to Brooklyn, she's f—ing dead, this girl,'" the newspaper reports.
The New York Post states that Ryan is facing charges of harassment, menacing and stalking in regard to his [soon to be ex] wife. Court referee Julie Stanton granted Jessica's protective order, and ruled that Ryan has to stay away from Jessica until their court hearing on July 13.
Jessica's lawyer,  Marc Rapaport, told The Post that Jessica is "considering all her legal options including potential claims against A&E." He also claims that the show's executives knew about Ryan's anger problems, but cast him any way to create more drama.
As The Ashley told you, Ryan confirmed that Jessica did, indeed, file the protective order against him when he posted a copy of it to his Instagram account over the weekend.
This confirms yet another statement made last week on a message board by a person claiming to be a production source. The Ashley was the first to break that news that many of that person's claims about the show's second season–from how the men were cast to Jessica's protective order– have proven to be true.
After news of the message board postings circulated, the show's experts took to social media to defend their show and the casting process.
"Our process is legitimate and rigorous with psych evaluations, background checks, questionnaires, interviews, and a multitude of assessments of different varieties," Dr. Logan Levkoff wrote on Twitter. (Click here to read what the other experts had to say about the situation.)
A spokesman for Kinetic Content, the show's production company told The Post that, although the cast is put through several psychological tests and background checks, "We can't control how they behave or govern their actions after production."
The 'MAFS' Reunion was supposed to air in two parts, tonight and next week, but the network suddenly decided to air both parts tonight…hmm…
Watch a sneak peek clip below: