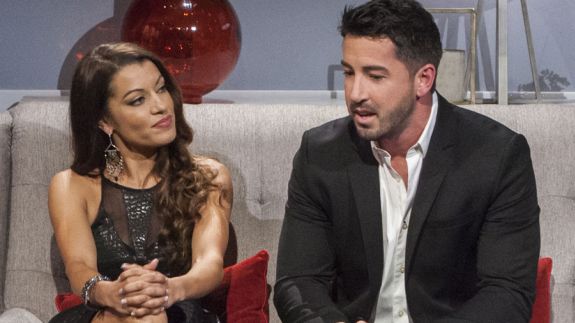 The Married at First Sight Season 2 reunion special aired last night, and viewers eagerly tuned in to see if the Internet rumors that all three couples had split since the "Decision Day" episode was taped were true. (Spoiler alert: They were!) While Davina Kullar and Sean Vatticchio, and Ryan De Nino and Jessica Castro basically clawed each other's faces off during the reunion, the third couple– Jaclyn Methuen and Ryan Ranellone, managed to keep things civil between them, even though they admitted that they had split in the months since the experiment ended.
In fact, the couple seemed somewhat flirty, causing the show's experts to urge them to try to fix their marriage. Sexologist Logan Levkoff even offered to pay for Ryan and Jaclyn to go out to dinner after the reunion taping! Jaclyn seemed eager to make her marriage work, but it was obvious to most viewers that Ryan was "just not that into" Jacyln anymore. However, at the end of their segment, Ryan  made it seem like he was willing to give his marriage to Jaclyn another try.
"I let you down quite a few times and you don't deserve that … you've come so much further than I have," Ryan told his wife. "You made leaps and bounds…If I could earn your respect back, I'd be a happy man. Let's just give it a shot."
Viewers want to know…did Ryan and Jaclyn get back together after the reunion taping?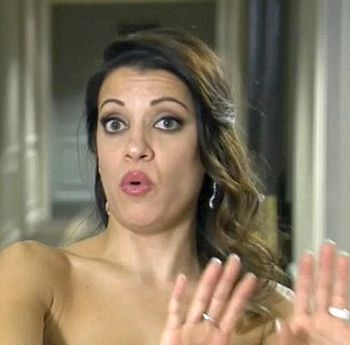 Unfortunately…no. Jaclyn made that quite clear in a series of postings to her social media accounts after the reunion aired.
On her official Facebook page, Jaclyn thanked the show's fans for their support and explained what happened after the taping.
"Thank you all so much for being so supportive and loving," she wrote in a comment of a picture she posted. "It is very disappointing but Ryan just said what he thought I wanted to hear, with no intent of backing it up. He proved that when he didn't feed [my cat] Mookie for the FIVE days I was in Key West. (Thankfully I had people go and take care of her.) Just goes to show how little he cared about me and my little furball. So I'm moving on with my life, staying positive, and sending nothing but love right back to all of you. You're helping me heal and I can't thank you enough!"
Last week an online message board commenter claiming to be a production source wrote some not-so-nice things about Ryan and his unwillingness to move out of his mother's basement and commit to his wife:
Jacyln's Ryan cheated on her during the experiment and had sex with his ex girlfriend. Other lies Ryan has told come out such as he does not support his family. He never paid his mother money to live there. His mom would complain she wanted Ryan to move out because he ate all their food and never contributed money.

[Jacyln] really tried with Ryan but he was such a mamas boy he never spent one night in that apartment with her. He said he had anxiety and had to go home. He went home every night. Or as she knows now some nights to his ex girlfriends house. You wont see shots of them waking up together until decision day.
While there was no confirmation that Ryan cheated on Jaclyn (it was not mentioned at the reunion or by Jacyln online), she did make a telling comment on Twitter that confirmed some of the commenter's other claims.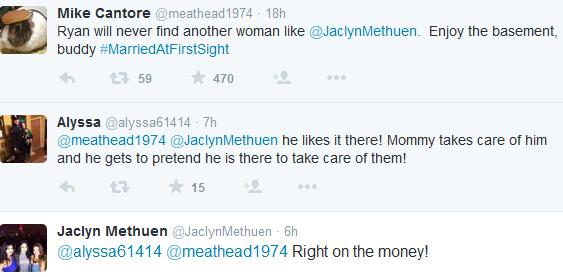 She also claimed on Facebook that Ryan never followed through with that dinner date he promised at the reunion.
Ryan did not respond; in fact he deleted his Twitter and official Facebook page on Wednesday afternoon.
To read all of The Ashley's coverage of the Season 2 cast drama, click here!