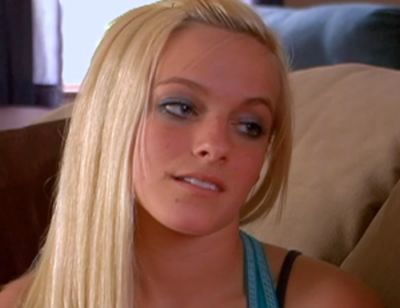 Mackenzie McKee went from small-town Oklahoma cheerleader to MTV reality star when she appeared on 16 and Pregnant in 2012, and followed it up by starring on Teen Mom 3 in 2013. The sudden fame apparently took its toll on Mackenzie, who opened up in a recent blog post about the rough period she went through after the show ended.
"Being on TV for just a short time and sort of being in the spot light in my small hometown was not easy," Mackenzie wrote on her fitness blog. "It seems that people would watch my every move and even dig real deep on my past so they could have something to hold against me. They began to forget my name and I just became that 'teen mom girl.' I felt like they saw me as a robot and not a human."
Mackenzie, who is now the mother of two children (and the owner of two new breasts!), stated that people she used to consider friends would write hurtful things on social media about her, causing her to retreat and, at some points, even wish for death.
"Through this time I hid, I would stay off social media, I would stay home, I was scared to go out, and I clung to my boyfriend who is now my husband. And lets be honest, at the time he was not the best boyfriend but I felt he was all I had," Mackezie wrote.  Then when I was alone I would lay down, review EVERYTHING someone I knew had to say about me and cry. Yes I would cry and cry and cry. I would cry to the point where I was shaking and screwing up my blood sugars.
"I didn't have dreams anymore, I would pray to God to either help me out of the country or send me home to heaven," she added.
Mackenzie wrote that she finally decided to improve her life and did so by purchasing a journal to write her goals in and sharing those goals with her husband, Josh McKee. She stated that it has been six months since this time, so one can assume her rough period was in 2014.
"Not a day goes by where I'm not doing something to take a stop closer in reaching my dreams," Mackenzie added. "Not only are those big huge dreams beginning to come true but I can honestly say I am truly such a happy person. And being a happy person made me a stronger person, a better wife, a better mom, and a better friend."
(Photo: MTV)