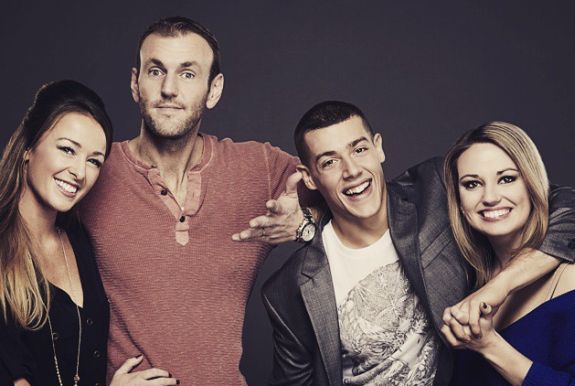 The couples of Married at First Sight Season 2 have all split, but two of the Season 1 couples are still together– and coming back to our TV screens!
Cortney Hendrix and Jason Carrion, and Jamie Otis and Doug Hehner, who married in 2014 during Season 1, starred on the follow-up series, Married at First Sight: The First Year, which documented their first year as newlyweds. The show ended after one season and, although an FYI network rep told The Ashley last month that the show was not renewed for another season, it appears that has since changed!
Perhaps due to all the negative publicity that 'MAFS' has been getting over the past few days, the Season 1 cast seemed eager to share some good news with the show's fans. It appears that the show will be reincarnated as 'Married at First Sight: The First Years' to continue documenting the marriages of Cortney and Jason, and Doug and Jamie. Both couples celebrated their one-year anniversaries in March.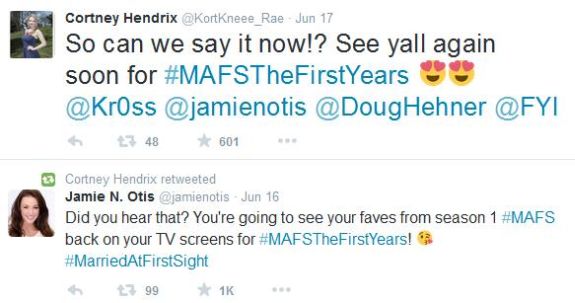 The Ashley reached out to one of the show's reps yesterday to get the network's official word on the spin-off. The rep stated that no info has been released on 'Married at First Sight: The First Years.'
Today, however, People magazine reported that the show was, indeed, happening and that it would air this fall.
Last week, a commenter on an online message board who claimed to work on the show's production team revealed that the Season 1 cast's spin-off was in the works.  As The Ashley told you previously, many of the other comments and spoilers written by this commenter have since proven to be true. The commenter stated that 'MAFS: The First Years' may also contain updates on the Season 2 cast, if they decide to sign the show's contract.
They are making a second year following the first season couples. They want to do updates on all 6 from this year. Through out it as they all have met already. As they did with Monet last season.

It is a very brutal contract when you are single vs being married still. I find it very doubtful all these ladies if any will sign it after what was done to them.
It seems unlikely that any of the Season 2 cast will sign on, given that they've all split with their made-for-TV spouses, and some have gotten into arguments with Season 1 cast members over the past few days.
The Ashley will update this story when she has more information!
(Photo: FYI)