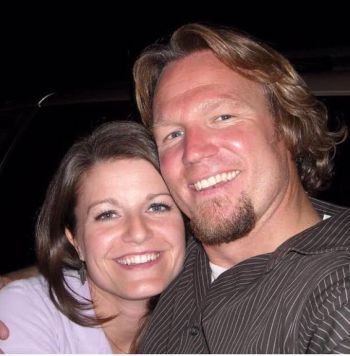 With all the hubbub surrounding the Duggar family lately, we've almost forgotten about that other controversial family featured on TLC– the Browns! The Sister Wives stars announced today that Robyn Brown is pregnant with the family's 18th child.
Robyn and Kody, who became legally married last year after Kody divorced his first (and only legal) wife, Meri, already have one son together, three-year-old Solomon. Robyn has three children from her previous marriage (who, in the upcoming season, Kody may try to legally adopt). Kody has one other child with Meri and six with each of his other wives, Janelle and Christine.
"We are so happy to announce an eagerly expected new member of the Brown family!" the family told People.
The Browns have not stated whether the baby is a boy or a girl, but did reveal that Robyn is due on January 7.
In a photo released to People, the entire Brown family is shown pointing toward Robyn's baby bump. (Anyone else love Meri's expression in this photo? Her face clearly reads, "There, I did it. Now give me my paycheck, TLC!")
Anyway, Kody told People that after "surviving 15 pregnancies" (um…pretty sure he wasn't the one squeezing a human from his loins), he knows how to treat a pregnant woman.
"I try to always be kind and tender, but when a woman is expecting, you have to be ultra-sensitive," he said. "And always do the dishes."
Oddly, none of the other Brown wives have posted about Robyn's pregnancy on their social media accounts. In fact, Meri's Twitter account is full of inspirational sayings and quotes about forgiving people, moving on and making mistakes. She hasn't engaged any of the other sister wives, or her husband Kody, in over a month, and makes no mention of being on 'Sister Wives,' causing some of the show's fans to suspect she may have left the show– or Kody.
Check out the major shade that Meri threw at Kody and Robyn on their five-year anniversary in May!
We will have to wait until this September to find out…and to see Robyn shoot another yet baby from her gentleman greeter!
(Photo: Twitter)