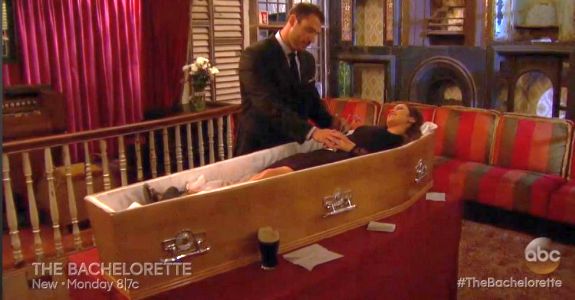 The Bachelorette is about to sink to a new low—six feet under!
A date shown on next week's episode will make a mockery out of death, and make one contestant (and certainly a bunch of the show's fans) very upset.
In a sneak peek clip of the episode that was just posted to the show's official website, the guys learn what sick game the producers and Kaitlyn have in store for them for their "date."
"I regret to inform you that the worst has happened," Chris Harrison tells the guys in a sneak peek clip. "Kaitlyn is dead…for today."
The guys all look shocked—but probably not because they believe that Kaitlyn actually is deceased. They are likely shocked because they can't believe the show would sink this low as to joke about death.
Chris tells the guys that they will celebrate Kaitlyn's life during a mock Irish wake. They are then made to file in, one by one, to where Kaitlyn is lying in a freaking coffin and give her a send-off message about how great she is.
W…T…F….
Unfortunately for contestant Ben Z., this "fun date" hits a little too close to home.
"I thought I was going to keep it lighthearted, keep it fun," says Ben, whose mother died when he was young. "But when you've done something like this before it has a realness to it."
Kaitlyn and Ben Z. have discussed his mother's death during previous episodes. Although Kaitlyn seemed to know that it was cruel to put Ben (and the other guys) through this, she doesn't really seem to care. (Hey—she got to buy a new, cute black dress!)
"I hope this isn't too hard on him," Kaitlyn says of Ben. "I meant for this to be a lighthearted thing. I never wanted to upset anyone."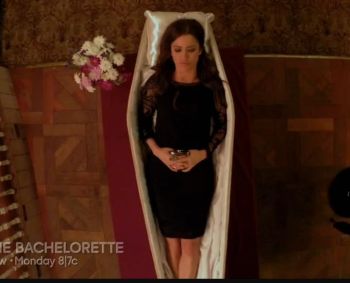 Apparently Kaitlyn thinks that death and funerals have the makings for a great big "lighthearted" party.
The Ashley fails to see the humor in a person having to tell another person that they love goodbye, but, hey, maybe she's just a great big ol' prude?
Although ABC just released the sneak peek clip of the scene on its 'Bachelorette' website, it is already starting to outrage fans of the show.
"I might have a problem watching that… I lost two husbands with cancer," a commenter on a 'Bachelorette'-themed Facebook group wrote of the clip.
"I am disgusted that they've chose to do this as there is absolutely NOTHING lighthearted about losing a loved one!" another commenter wrote.
As The Ashley has stated in her recaps, the producers have done very few romantic dates this season; instead, most of the dates have involved publicly humiliating the guys, and forcing them to compete for Kaitlyn's love.
"This season seems more like a circus or a weird game show," another commenter wrote. "Just bizarre."
Do you think 'The Bachelorette' has gone too far with this "date?" Watch the clip below and then sound off in the comments below and tell The Ashley!
(Photos: ABC)