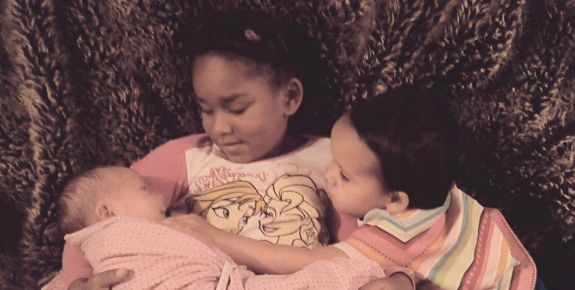 Yet another girl from the 16 and Pregnant franchise has welcomed a third child. Ebony Jackson, who starred on the very first season of the show back in 2009, gave birth to her third daughter last week. The baby's father is Ebony's boyfriend, James Baldrick, who announced the pregnancy back in April.
James stated on his Instagram that he and Ebony planned to name the baby Jaelyn Zoria Baldrick. The baby girl's name is similar to the names of Ebony's other little girls, Jocelyn and Jayda. (Their father is Ebony's almost ex-husband Josh Rendon.)
Ebony has kept quiet on her social media accounts and has not yet announced Jaelyn's birth. She did, however, recently post a photo to her Facebook account of Jocelyn and Jada holding their new baby sister.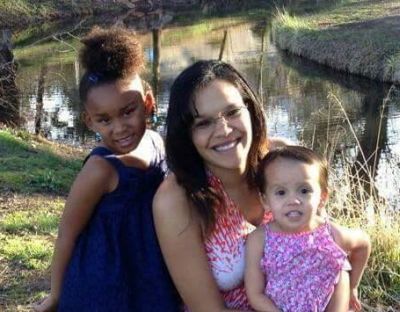 While this is 24-year-old Ebony's third child, she has had at least five pregnancies. In April 2014,  James announced that Ebony miscarried a baby boy they planned to name Hercules. She also suffered an ectopic pregnancy during her marriage to Josh.
Speaking of Josh, he has moved on from his marriage to Ebony. He has been in a relationship with another woman since last winter, and recently posted on his Facebook that he is in the process of becoming officially divorced from Ebony. (They split in 2013 after about four years of marriage.)
With the birth of Jaelyn, Ebony joins the four other '16 and Pregnant' girls who have three children.  Season 2′s Leah Calvert and Season 3′s Jennifer Del Rio have three kids, although that is due to them having twins during their first pregnancies. Ebony, as well as Season 2′s Lori Wickelhaus and Season 4′s Kristina Robinson are the only girls from the show to have three separate, viable pregnancies.
(Photos: Facebook)