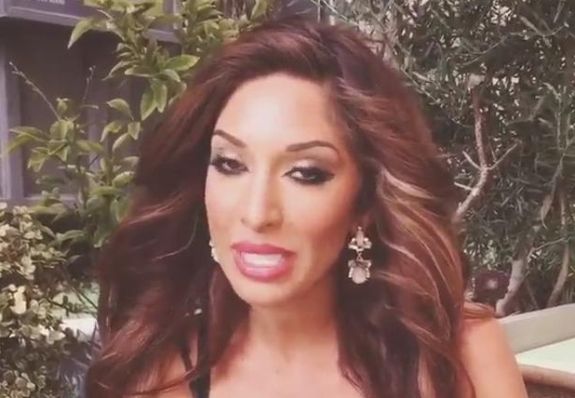 Farrah Abraham has hit a new low. The Ashley didn't actually think that was possible, given that just weeks ago the Teen Mom OG star was hawking vials of her DNA. (No, seriously.) Today, Farrah managed to find a new (and even lower) limb of the desparation tree to land on.
Our favorite "Backdoor Teen Mom" just posted Instagram and Twitter videos in which she literally begs her fans to help her find a date to the upcoming ESPY Awards. As you may have heard, Farrah recently split with her boyfriend, Simon Saran, so she doesn't have anyone to take to the sports awards show. Naturally, she took to Instagram to find someone. (Don't worry, guys, she already has the dress! Now she just has to find someone who's willing to take her.)
"So I'm single, as you all know," Farrah says in a video posted today. "I have a sexy dress that my girl Angel Brinks made me, but I don't know where I'm going to where it, maybe the ESPYs? But I need a single athlete! I mean, is there any takers?"
Um…no.
Farrah then asks her her fans to help her find a date (aka someone who will hold her purse while she poses on the red carpet and the journalists try to figure out why the hell a 'Teen Mom' girl is at the ESPYs).
"Fans, help me out!" Farrah says. "Let me know who's available and I'll be waiting."
On Twitter, Farrah posted the video and asked her fans to "Tag your favorite single athlete" to help her catch the attention of a sports star that's looking for a date. Farrah actually got plenty of "regular" guys who wanted the job, but she also caught plenty of flak for her video.
"Espys? More like the despys!" one clever Twitter user responded.
Her Instagram followers weren't much kinder.
"Asking Instagram for a date? 'That's for ugly girls, babe. That's for ugly girls,'" one Instagram user wrote, using Farrah's quote from the 'Teen Mom OG' episode in which she told Simon that only ugly girls wait for a proposal.
The Ashley will be at the ESPYs this year, so she will keep you posted on all Farrah ESPY hijinks!
Watch Farrah beg for a date here:
fans help! @angelbrinks sent me a sexy dress where do I wear it to! The #espys ?Tag your favorite single athlete!" pic.twitter.com/iCwmGkPuoG

— Farrah Abraham (@F1abraham) July 1, 2015