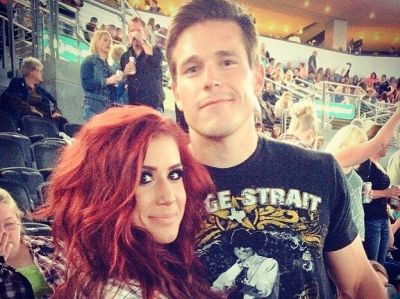 Chelsea Houska has come a long way since the early days of Teen Mom 2, where she was pining over her crapgoblin baby-daddy, Adam Lind, and peeing out her IUD. Now working (a real job!) as an esthetician and in a stable relationship with Cole DeBoer, Chelsea has managed to remain relatively normal, while many of her 'Teen Mom' franchise co-stars have gone off the deep end.
To date, Chelsea has no arrests, no additional out-of-wedlock babies with random dudes, and no social media meltdowns on her record.
Chelsea, who is about to turn 24, recently talked to In Touch Weekly about her future with Cole, whom she has been dating for over a year. She revealed that they have some big plans in the works.
"We will be [living together] soon — within a month," Chelsea told the magazine recently. "I have my own house, so he'll be moving in with me."
Cole, a strapping young lad who works as a traffic control specialist (and doesn't seem to be a menace to the state of South Dakota like Adam Lind), is very close with Chelsea's five-year-old daughter Aubree.
"He's great with Aubree," she recently told MTV News. "Cole's relationship with Aubree is so amazing to me because she's never had like a positive male role model in her life. I mean, she's had her grandpa. But as a father figure, he completely stepped up to take on that responsibility — more than I ever could have even imagined."
A production source tells The Ashley that, while Cole will be featured on the upcoming sixth season of 'Teen Mom 2,' he will not make frequent appearances, as the couple has really tried to keep their relationship private and away from "Teen Mom Land."
Unlike some 'Teen Mom' franchise stars, Chelsea no longer has any interest in putting her personal life out there for the world to feast on.
Fans seem to be wondering when Chelsea and Cole will get married. She addressed this topic in her interview with MTV News.
"It's not like we're planning on getting married or anything right now, but I definitely don't see us breaking up," she said. "We'll just take the next steps as it comes. I'd love to be with him forever, and I definitely want more kids in general."
While a wedding and more babies may be in the future for Chelsea, expect to see her and Cole march down the aisle in a "Two Hour Teen Mom Wedding Extravaganza!"
(Photo: Facebook)