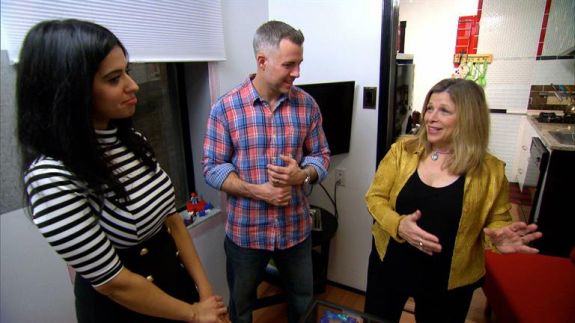 It's been a few weeks since the Married at First Sight Season 2 reunion special aired (and a social media storm erupted between the show's cast members.) During the reunion, it seemed that the show's experts were eager to place the blame for the season's disastrous casting and matchings on the show's cast, but since then, expert Dr. Pepper Schwartz seems to have taken at least some responsibility for the castings, but made it clear that she isn't happy with some of the Season 2 cast.
In a long-winded Facebook comment, Dr. Pepper singled out Davina Kullar's best friend, Chris Pierro (who appeared on the show) for trying to "besmirch the reputation of all the experts in the show." While Chris Pierro has been very outspoken on social media regarding his anger over how the Season 2 girls were matched and portrayed, Dr. Pepper mistakenly identified him as another critical fan of the show, and later apologized for her mistake.
However, her statements in the Facebook comment addressed other show-related topics, and were noteworthy.
On the Season 2 casting:
"Rest assured that we do not pick actors and actresses," Dr. Pepper wrote. "I believe we misjudged several of the people who are in Season 2 and I certainly take responsibility for that. We really did not realize who we were dealing with."
On the future of the show:
"Season three will be great and Season 1 continues to be great," she wrote. "We do our best to match couples so that they have a real potential for lasting marriage and we did not do very well in Season 2 but we try to learn from…what did not go well and I think we have a good chance for great success [for] next season's show."
On members of the Season 2 cast who have voiced their negative opinions about their experience:
"I am not sure why Chris and his coterie of people around and including Davina would like to destroy the show and its credibility but believe me they are trying to do just that," Dr. Pepper wrote. "I have no reason to be associated with a show that was fake or unethical…"
The Ashley reached out to Davina's friend, Chris, to get his opinion on Dr. Pepper's statements regarding him and Davina.
"I'm trying to move on from the unprovoked bullying emerging after defending myself from the latest expert attack," Chris told The Ashley.
As The Ashley told you, the third season of 'Married at First Sight' is currently being filmed in Atlanta. The couples taking part in the experiment were married in early June and have already gone on their honeymoons. The Ashley will be posting some spoilers for the season soon!
To read Dr. Pepper's entire Facebook comment, click here!
(Photo: FYI)