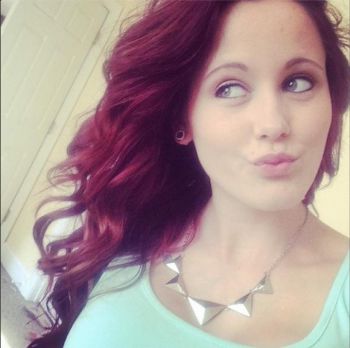 Mackenzie McKee may be the latest Teen Mom franchise star to venture into the adult industry, but it appears that she wasn't Vivid's first (or only) choice to be the next 'Teen Mom' sex tape star.
Teen Mom 2 star Jenelle Evans says representatives from the company approached her two weeks ago and offered her the chance to be the next 'Teen Mom' p0rn star.
"They contacted my lawyer and wanted to offer me $1.5 million [to do a sex tape]," Jenelle told The Ashley exclusively.
Farrah Abraham's p0rno with Vivid was a huge success, and the company seems to be hoping that another 'Teen Mom' sex tape will deliver similar results. Mackenzie has apparently signed on the dotted line to be the company's next adult movie star, something Jenelle says she had no interest in doing.
"I told my lawyer to respond for me and say, 'No thank you, not interested but flattered,'" she said.
Jenelle told The Ashley that the fame and money that would come from doing an adult movie aren't worth it.
"My future and reputation is more important than gaining a quick buck," she said. "And it's against my morals as a person. That's just so disrespectful to yourself."
Jenelle's mother, Barbara Evans, is no doubt relieved that her daughter didn't take the offer. Of course, that means we may never get to hear Babs utter the phrase, "Well Juh-nelle, I seen ya in the p0rno flick!"
While some fans may think Jenelle is fibbing about this, The Ashley can confirm that at least one other 'Teen Mom' franchise star was approached with a similar offer. (She does not know which adult film company was involved, however.) Also, Amber Portwood claims that, before she went to prison, she was approached by an adult entertainment company to film a naughty movie. (Her brother Shawn confirmed this in 2013.) She, too, turned the offer down.
Obviously, Mackenzie's tape may have already been in the works by the time Jenelle was approached, as it is not yet known when Mackenzie's tape was filmed.
UPDATE: Vivid has confirmed that it did make a sex tape offer to Jenelle. Click here to read what the company said.
To read what celebrity sex tape expert Kevin Blatt told The Ashley about what's likely happening with Mackenzie's tape, click here!