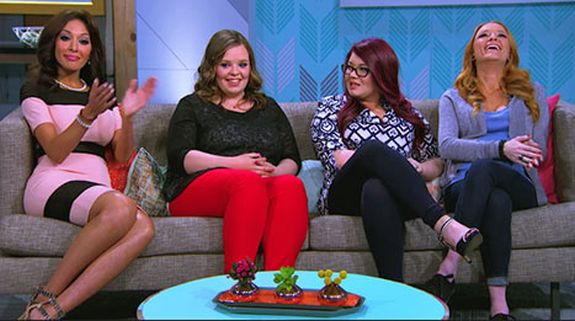 The Teen Mom franchise no doubt has its share of critics– from the people who claim that the reality shows glamorizes teen pregnancy, to the folks who are angry that MTV took young, unwed mothers and turned them into full-blown celebrities.
The Ashley has some bad news for the show's critics: 'Teen Mom' is here to stay– at least for another season. The Ashley can exclusively confirm that 'Teen Mom OG' has been renewed for yet another season!
Two very good sources have confirmed to The Ashley that the show, which ended its fifth season in June, will be back for a sixth season. Although MTV has not yet officially released the announcement that the show has been renewed, The Ashley's sources tell her that it is definitely coming back.
In fact, Farrah Abraham and her family were filming with the 'Teen Mom' crew over the weekend in Alaska. (Farrah was there to appear at a club.) The show's field producer, Heather Walsh, executive producer Larry Musnik, and a film crew, as well as Farrah's father Mike Abraham and daughter Sophia were spotted while filming on the trip.
Cameras also appeared to be rolling as Farrah, Heather and other crew members had lunch at a restaurant in Chelsea, New York, last month.
The Ashley does not know (yet) whether 'Teen Mom OG' star Maci Bookout will allow her kids to be a part of the new season. Last season, Maci took her son Bentley off the show after Farrah was allowed to come back. Maci has since had a baby girl named Jayde, but it is not known if she will be filmed.
The next season will likely be filmed in the same fashion as last season, with the "fourth wall" broken. However, The Ashley can not confirm this yet.
The Ashley will update when she has more info on the next season of 'Teen Mom OG!'
(Photo: MTV)