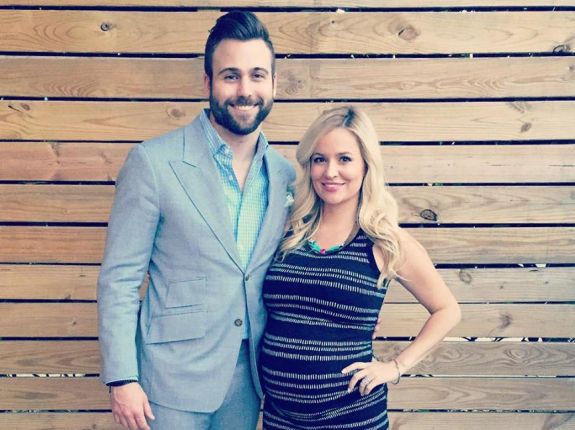 It's a boy for former Bachelorette star Emily Maynard and her husband of one year, Tyler Johnson. Emily, the beautiful Southern belle that has captivated America since she first appeared on the Brad Womack 2.0 season of The Bachelor in 2011, announced on her Instagram this morning that her baby boy had arrived.
"God is good. My heart can't even handle it," Emily captioned a photo of her and her newborn son.
The baby boy is Emily's second child and Tyler's first. Emily has a nine-year-old daughter, Ricki, from her previous relationship with stock car driver Ricky Hendrick. Ricky died in a plane crash in 2004, while Emily was pregnant with Ricki. In a recent interview, Emily said that her pregnancy with her new baby boy was very different from her pregnancy with Ricki, which she spent mourning her fiance's death.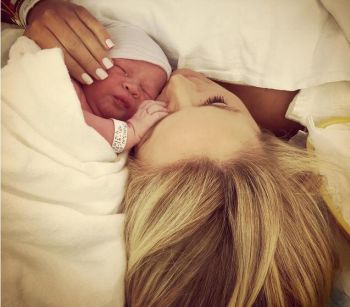 "When Ricki was born, it was a really hard time in my life, and I was so young that I really don't think I enjoyed it or soaked it in as much as I wish I could have," Emily told Charlotte news station WCCB.  "I'm just really looking forward to getting up with him and feeding him… Ask me after he's been here for a month if I'm still excited, but right now, that's what I'm looking forward to."
Emily and Tyler have not announced the baby boy's name yet.
Emily was engaged three times before she married Tyler, a man she met at church, in 2014. In addition to her engagement to Ricky, she became engaged to Brad Womack at the end of his season of 'The Bachelor' in 2011. The couple ended their relationship, and Emily went on to become 'The Bachelorette' in 2012. She chose Jef Holm, and the couple got engaged but broke up shortly after the season aired.
(Wanna see her first three engagement rings? Of course you do!)
In her interview with WCCB in May, Emily confirmed that she is done with reality TV.
"I'm old news," she said, "and I'm thankful for that."