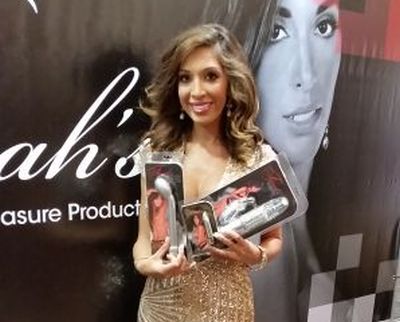 Farrah Abraham has stated many times that her venturing into the sex industry has "ruined her life." That hasn't stopped her from attending more sex industry events, however!
The Teen Mom OG star appeared at the Adult Novelty Manufacturing Expo (ANME) in Burbank, California, earlier this week to promote her new line of sexy time toys, which include, but are not limited to her Inflatable Farrah Doll.
Yes, kids, you can have your very own blow-up Farrah to do The Sex with.
Farrah was on-hand signing autographs, meeting fans and hawking her new Topco Sales toys, which also include a three-speed vibrating bullet and a few other vibrating toys for ladies. Of course, who could forget Farrah's previously released plastic lady parts? (Click here to read The Ashley's account of her trip to Farrah's toy release party last year.)
The Ashley interviewed Farrah last year when molds of Farrah's private parts were released, and Farrah explained that she didn't regret her decision to make sex toys. In fact, she had a very good reason for hawking duplicates of her lady parts.
"Because I am young, fun and 23," she told The Ashley in July 2014. "I felt like I would regret it if I missed this opportunity. So I figured, 'Why not?'
"Is it weird to see my body on display? No," she said. "It is weird to hold it though! But when I'm holding it I just keep thinking, 'Damn I look so good!'"
Farrah's new vibrating toys aren't shaped like her privates, but she did take the time to pose with them in front of a giant display of her plastic butts. (I mean, as you do.)
Check out the pics from Farrah's visit to the ANME convention on Monday below. (Click the thumbnails to enlarge them. They're worth a gander!)
(Photos courtesy of Topco Sales)