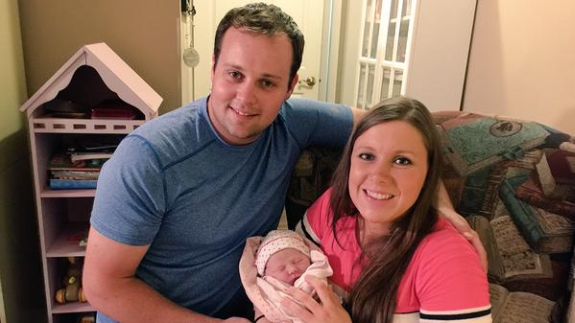 There's one more Duggar kid to count!
Josh and Anna Duggar, (former) stars of 19 Kids and Counting, welcomed their fourth child today. The couple, who have been keeping a low profile since it was revealed in May that Josh had molested five children (including four of his sisters) while in his teens, posted photos of the baby girl to their social media accounts.
Josh and Anna already have three children, all of which have a name starting with the letter "M." They kept the tradition going with their fourth child's name.
"She's here. Meredith Grace Duggar: 7 lbs., 14 ozs, 20-1/2″ long. Anna and baby Meredith are resting and doing well — thanks for all of your prayers! We will try to post more photos as soon as possible!" the couple posted to the family's official Facebook page, along with several photos of the new baby.
Of course, Josh's parents, Jim Bob and Michelle Duggar, had to create a video to celebrate the arrival of their fifth grandchild. (These people love to make weird YouTube videos; who could forget their recent painfully awkward goodbye video for Jill and Derick?) 

"Josh and Anna just had their fourth child," Jim Bob says in the video. "That gives them two boys and two girls."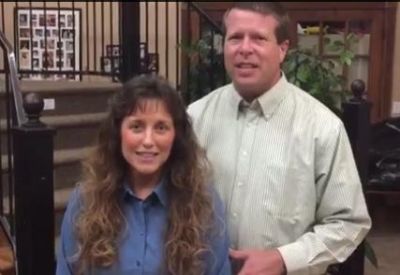 The Duggars have not been filming their reality show since the Josh Sex Abuse Scandal hit. This week, TLC announced that it has cancelled the show.
Meredith's birth marks the first time that Anna gave birth off-camera. The births of her previous three children had been filmed for the show.
"Anna did an amazing job in labor," Michelle reports in the video. "She and I were talking and we really think this was her best labor yet!"
Well…when you give birth to one of your kids on a toilet, it's not hard to top.
"I know that Mackenzie, Michael and Marcus are just loving having their little sister here," Michelle added.
Jim Bob reminded fans that the family will soon be adding a sixth grandkid to their clan, as their daughter Jessa and her husband Ben Seewald are expecting their first baby in November. 

Watch Jim Bob and Michelle's baby announcement video here: