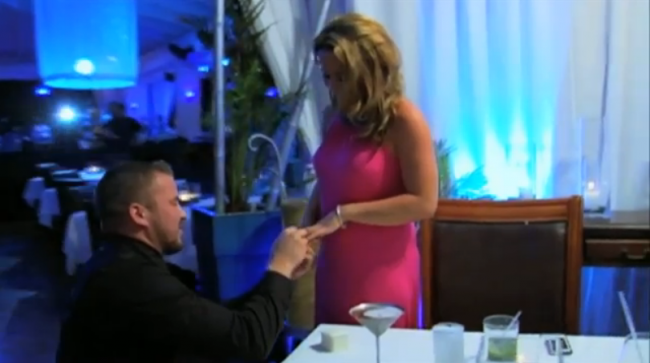 The Ashley apologizes for the lateness of this recap! (Rest assured, though, she wasn't spending her time this week getting "High! High!" or being seen with "Kieffa!")
Anyway, this episode of Teen Mom 2 basically picks up where we left off last week. Kail and Javi are fighting, Leah and Corey are fighting, Chelsea and Adam are fighting and, for once, Jenelle and Nathan aren't fighting (but Jenelle is fighting with her mom Babs so…business as usual.)
We start off in Delaware, where Kail and her gal pals are heading to the concert in Philly that caused such a stink between her and Javi. Nothing has been resolved, and Kail is upset because she feels her marriage is toxic. She tells her friends that she and Javi both know their marriage is going down, but neither wants to be the one to pull the plug. Perhaps they can get Babs involved. She can just call up Javi and say, "Bye! Bye! Kail is sayin' goodbye!"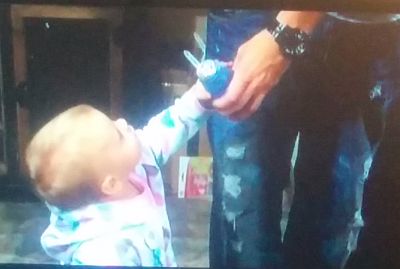 Next, we head down to the hollers of West Virginia to check in with Leah and her gang of ex (or soon-to-be-ex) husbands. The twins are staying with Corey and his wife Miranda, but Leah and Jeremy's daughter Addie is at home with them.
Leah's just ripped open a fresh new box of grenade juice and gives the baby one. (Seriously what are those things? Are they drinks? Are they weapons? And why are they filled with what looks like Windex?)
Anyway, we can tell from the calendar that this scene was filmed in mid-December, during the period of reconciliation between Leah and Jeremy.
Um…so are we not even going to mention the entire Robbie Kidd affair, MTV? Seriously? Not even a line in a voiceover, with Leah saying, "So I was feeling sad so I done slept with my ex boyfriend but it was Corey and Jeremy's fault." Nothing?! I'm so disappointed in you, MTV, as per usual.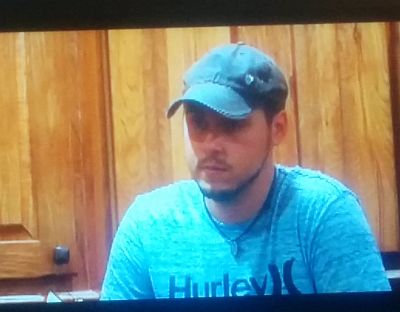 Leah explains to Jeremy that Corey wants to be the one to pick up the girls from school, put them to bed and give them their sugar water grenades in the morning. Leah says that Corey wants to take them to school because, well, she doesn't bring them, but, dingdang it, she has excuses why the babies weren't in school!
Leah then brings up the fact that it was ridiculous for Corey to make her take a hair follicle drug test. As Leah says that, Jeremy just stares at her with this telling look and doesn't say anything.
Over in South Dakota, Chelsea is taking Aubree to her school's Christmas concert. Aubree's hoping that Adam and Paislee will be there, but Chelsea can't be sure if Adam is in town/in jail.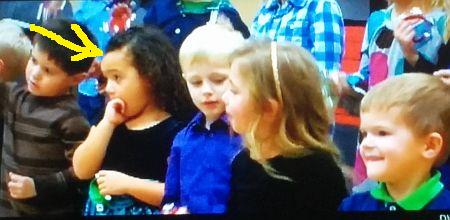 Chelsea's boyfriend Cole is there, however, and just as the "Jingle Bells" are about to start ringing, in strolls Adam.
It's a big moment for the group. Adam and Cole meet for the first time. Unfortunately, it seems that whatever camera guy was assigned to capture this Kodak moment may have been drunk or something. Instead of filming the reaction shots of Adam meeting Cole, the camera guy is filming the floor and ceiling in one big blur.
(Um…did the guy fall over or something?) All of a sudden the camera guy seems to remember that he's there to film these people's interactions and snaps back into action.
South Dee-kotah Mary and Randy show up just then to ease some of the awkwardness. Mary seems to be getting a kick out of the fact that this is the first time that Adam and Cole have met. ("It's a big moment, dontcha know!") Mary, we've missed ya!
Finally, we see what Jenelle is up to. Prepare to be shocked: Jenelle tells us that she and her mom haven't been getting along. Babs hasn't let her "bitch of a daughta" see Jace in two weeks, but Jenelle has other things to worry about. She and Nathan are heading to St. Thomas the next day! They are planning on going swimming and snorkeling. (Finally– it will make sense for Nathan to be wearing his signature neon green wetsuit top!)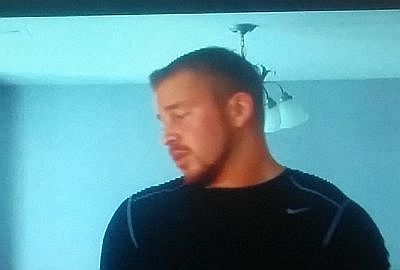 Jenelle's hoping to see Jace before she and Nate head off to have a "la de da time" in St. Thomas. Barb, however, isn't answering her phone when Jenelle calls.
"She can't even answer my calls, dude!" Jenelle says.
Um…wasn't it last episode that Barb told us that Jenelle refused to answer Barb's call when she tried to wish her a happy birthday? Just sayin…
Jenelle gets really upset and starts crying to Nathan that she wants to see Jace.
"I'm leaving for a week! I have to see him!"
As the scene fades, they put a photo of Jenelle crying in the little notebook thingy, along with a photo of Jace, which cryptically fades away. Nope, nothing creepy about that!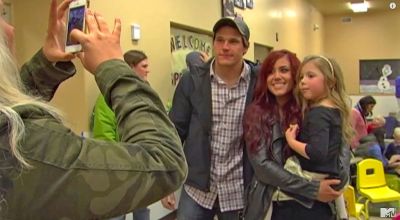 Meanwhile, Chelsea and Mary chat about how lucky it is that Chelsea finally stopped boinking Adam and didn't get roped into marrying him and his receding hairline. She marvels at the fact that if she would have settled for Adam, she would have never met handsome and kind Cole.
"Now I've got a nice, hot piece of ass!" Chelsea exclaims while Aubree tries to figure out what a "piece of ass" is.
The next day, Chelsea meets up with Taylor and her daughter Paislee to talk crap on Adam and figure out how to join forces in battling him for kiddo custody. They meet with Taylor's lawyer, who tells the girls that they can actually restrict Adam even more, being that they think he acts like an unhinged hooligan on the regular. The girls decide to team up against Adam, and laugh at how angry Adam will be when he finds out that his two baby-mommas are joining forces!
In Philadelphia, Kail and her friends finally attend the Sam Smith concert. Afterward, Javi decides that he'll come to Philly to hang out with Kail and the galpals. Javi arrives and apologizes for causing a a commotion. I yawn.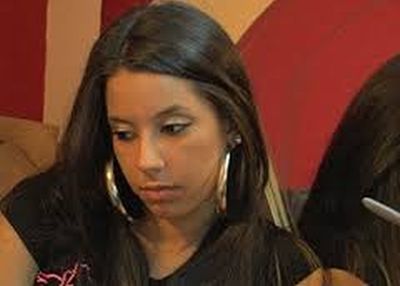 Meanwhile, Jo and Vee have Isaac at their house. Jo tells Vee his plans to move to Delaware to be near Isaac. Vee is not too thrilled about leaving Jersey. Jo basically tells her it's move to Delaware or bid farewell to him (and her 'Teen Mom 2' paychecks!)
He says this, of course, in his typical barely audible monotune. It's sad that watching them make a gingerbread house is the most exciting part of the scene.
Meanwhile, Jenelle, Nathan and their crew of degenerates arrive in the Virgin Islands. When Jenelle goes to shower, Nathan reveals to his friends that he plans to propose on this trip.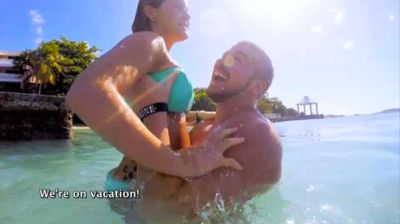 But first, Jenelle and Nathan celebrate the fact that they're on vacation. Um…from what exactly? None of these people technically have jobs. Can you even go on "vacation" if you don't have a job?
Jenelle tells her pals how happy she is to be stress-free in St. Thomas. (The camera guys filming this are right on target with their shots. They're just happy they got a free trip to St. Thomas, while the other camera guys got stuck in South Dakota during the winter, filming a kiddie Christmas concert.)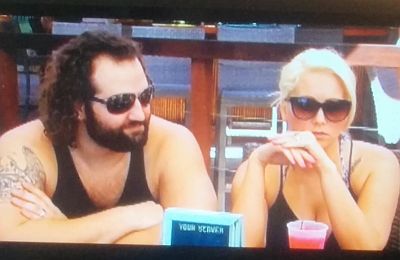 Also…why is Jenelle on vacation with Ron Jeremy? Seriously.
Jenelle says that she and Nathan are both graduating from school, and that they are very stable and have everything they need, except for their kid(s). Ron Jeremy seems confused as to why none of them have custody of their kids but he doesn't say anything because well, free Mai Tais…
The next day, Nathan (using his pink blowdryer and brush, of course) is getting ready because he's planned a big dinner for Jenelle and the gang. Jenelle tells her friend how great she and Nathan get along these days.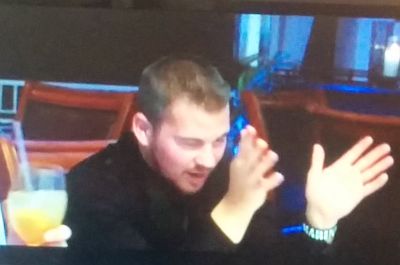 Nathan is all suited up in a black dress shirt and vest for the evening. (Does he only have two looks: waiter or wet suit?)
In West Virginia, Leah's taking a "night off" from her parenting duties to go get Chinese food with her sister Victoria. (I can't even imagine how bad the Chinese food in West Virginia would be…dear God. My stomach churns just thinking about it.)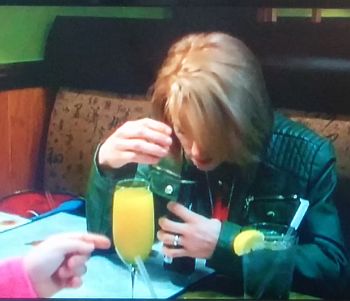 Leah, of course, orders champagne at the Chinese food bar. (Because, nothing goes better with chow mein than cheap champagne, y'all! We fancy!)
Leah's sister (like her friend last episode) tells Leah that she "looks tired." (Re: rough) Leah laughs as she tells Victoria that she hasn't slept in two days. She tells Victoria that Corey's making her take a hair follicle drug test, but that she has good reason for taking all of those pain meds. After all, she has headaches so bad she had to "crawl to the commode to vomit."
Well there goes my appetite. At least they didn't close the segment with a cartoon drawing of Leah spewing chunks into the "commode."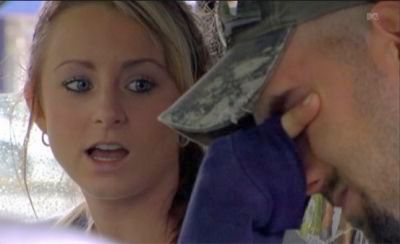 The next day, Leah has to go take her ding-dang drug test and then wait on the results. ("Damn you, Corey Tyler!")
Leah won't have to take any more drug tests if she passes, but we'll have to wait a few days to find out if she does. Meanwhile, all of the youngins are back home and screaming for cookies, so Leah's stressing out. She's losing her mind (well, that seizure-inducing disco light Christmas tree in the corner is probably not helping), and the timeout chair is getting a workout.
At Corey's cabin, all is peaceful. It's quiet and calm, as Corey talks to his dad about being worried that Leah is all "jacked up" and driving the kids around while she's "High! High!" He does air quotes whenever he mentions Leah's "prescriptions" and says that he doubts he'll ever see eye to eye with Leah on parenting decisions.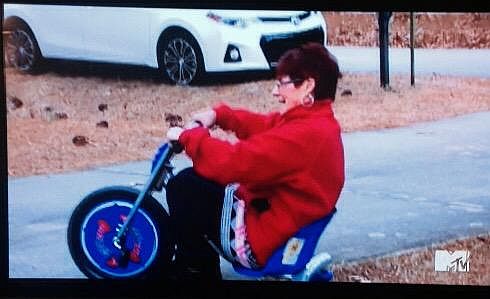 In between the endless commercials, we are treated to a bonus clip of Jace riding a tricycle. He demands his "mom" Barbara try the trike, and she does. She starts getting into it, yelling "Oh this is fun!" while cackling. That clip made watching this whole boring episode worth it.
Back in Delaware, Kail and Javi are trying to get along but are still struggling. They take some time to discuss how bad their fighting has gotten, and that Kail doesn't want to hang out with someone she fights with all the time. Also, I'm pretty sure this conversation is taking place in a broom closet or something.
Kail and Javi say that they are both at their breaking points but resolved to stay in counseling.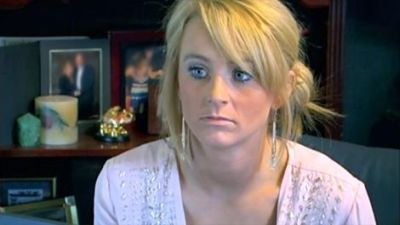 In West Virginia, it's drug test result gettin' time! Leah goes to her lawyer's office (which is decorated like Little Laura Ingalls' house, for some reason) to get the results and is looking very nervous as her lawyer opens the envelope. The test comes back negative and Leah breathes a huge sigh of relief and almost seems surprised that no drugs were detected.
She goes to celebrate with her friend and Addie over passing the drug test. She screams, "I passed!" and whirls Addie around, and can barely wait to show dern Corey Tyler that she isn't all hopped up on the happy pills.
Finally, we check in one last time with our Caribbean lovers, Jenelle and Nathan. They arrive at the fancy dinner and Nate pulls out Jenelle's chair for her to sit. (Normally, however, he pulls out Jenelle's chair and then probably sits in it himself.) The gang make a toast to having no stress, and then Nate starts making weird sounds like he's constipated.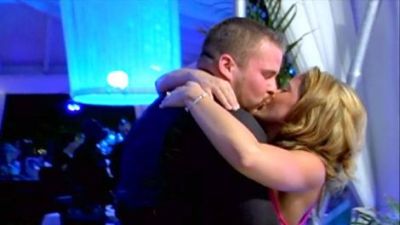 He then stands up and yells into the restaurant about how crazy in love he is with Jenelle. The poor people in the restaurant are trying to figure out 1) who the hell these people are 2) why there's a camera crew with them and 3) why their lobster ravioli is taking so damn long.
Nathan proposes and Jenelle tries her best to act surprised and happy. She accepts, of course, and the two kiss in the romantic glow of the restaurant's neon lights.
Until next week, kiddies!
To read The Ashley's recap of the previous episode of 'Teen Mom 2,' click here!
(Photos: MTV)