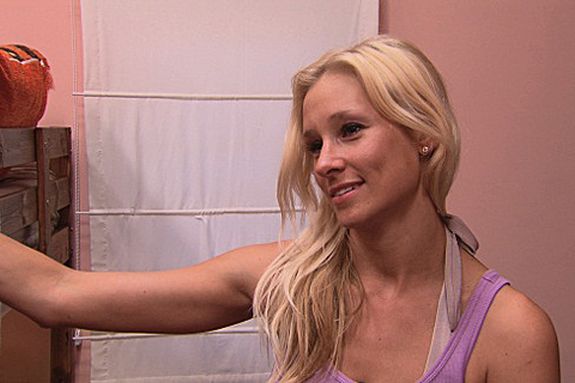 Reality TV fame isn't all glamour and free vacations. Sometimes, it can be downright scary to be famous, as Real World: Austin star Melinda Stolp has learned in recent months. According to Milwaukee news station WISN, Melinda has allegedly been dealing with a very scary stalker, who has not only threatened Melinda's life but also the lives of her co-workers and even those that work at MTV!
The news station reported that a warrant has been issued for the arrest of a Michigan woman named Rachel Hill, whom has allegedly been stalking Melinda, despite the fact that she has never met her. According to the news report, Rachel has sent dozens of threatening emails, phone calls and messages to Melinda and to the dental office where Melinda works.
"Laced with profanity, the messages include threats like, 'I'm going to come into the office and shoot all of you in the head' and 'I'm going to go to MTV and burn the building down,'" the report said.
In a voicemail left at the dental office where Melinda works, Rachel allegedly threatened, "I'll be killing a lot of…people."
When the Muskego, Wisconsin, police started looking into the case, they, too, allegedly began to get threatening messages from Rachel.
"One officer [was] saying that he received 15 threatening emails in about an hour," the news station reported.
The most-recent threat reportedly came last month, causing the Muskego Police Department to issue the warrant for Rachel's arrest.
Rachel is being charged with one felony count of stalking.
Melinda has been out of the limelight for a while. She appeared on several seasons of The Challenge and is best remembered for dating and marrying her "RW: Austin" co-star Danny Jamieson. (They later divorced.) She has not appeared on 'The Challenge' since 2012's "Battle of the Seasons," and has focused on her job at the dental office and her relationship with her fiance, Matty.
She has not mentioned Rachel or the stalking on any of her social media accounts.
(Photo: MTV)