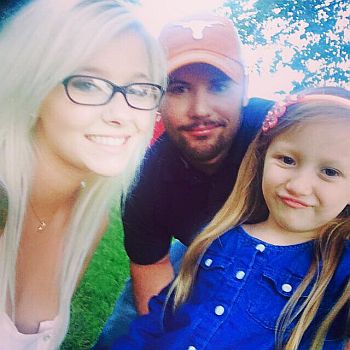 This is a story that The Ashley doesn't get to write that often: a girl from 16 and Pregnant has gotten married– before having a second (or third!) child!
Lindsey Harrison, who is best remembered as the cage fighting mama from '16 and Pregnant' Season 4, got hitched on Saturday to her fiance, TJ Nicholson. The couple, who has been engaged since December 2014, got married in Lindsey's home state of Nevada. Lindsey wore a backless full-length white gown for the big day, while her groom dressed in a tuxedo vest and jeans.
"Best day ever!" Lindsay captioned a photo of herself in her bridal gown that was posted to her Twitter account.
The newlyweds are set to honeymoon in Montego Bay, Jamaica.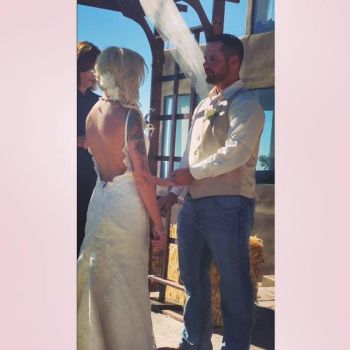 TJ, who works as an engineer, is a little bit older than Lindsey (he's 25, she will turn 21 in August) and he already owns his own home in Texas. Lindsay, who is originally from Reno, Nevada, moved to Texas last year, along with her three-year-old daughter Aniyah, to be with TJ.
According to a recent Twitter post, Aniyah's biological father, Forest Ponce, is no longer present in Aniyah's life, and TJ has stepped up as her father figure.
"Just to clear things up, Aniyah's sperm donor Forest is in no way a part of her life anymore & hasn't been for a year," Lindsay wrote earlier this month. "My husband TJ is her dad."
Lindsey has kept a relatively low profile since appearing on '16 and Pregnant.'
Unlike most of her '16 and Pregnant' cast mates, Lindsay has not had a second child. While many of the girls from the show have been engaged (some of them multiple times!) since appearing on '16 and Pregnant,' very few have ever actually made it down the aisle.
While many of the girls from the show have gone on to marry their baby's father (i.e. Ebony Jackson, Megan McConnell, etc.) only a few of the girls have married a guy that didn't appear on their '16 and Pregnant' episode with them. That list is composed of Jenelle Evans (who could forget ol' Courtland Rogers?!), Leah Messer (whose marriage to Jeremy Calvert just ended in divorce), Jennifer Del Rio (who married a guy named Luis in 2013), Kianna Randall (who married a guy that's in prison), Kristina Robinson (who got married to a guy named TJ but has since split with him), and Kail Lowry (who is still married to Javi Marroquin).
Wanna see Lindsey's engagement ring? Of course you do!
(Photos: Facebook, Twitter)