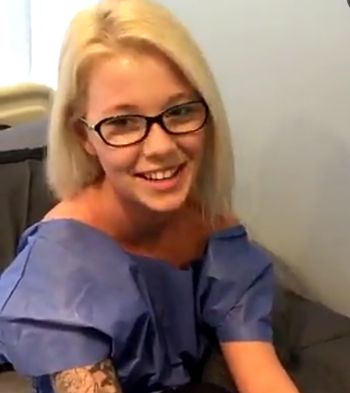 Another day, another girl from 16 and Pregnant who's getting plastic surgery from Dr. Miami!
The latest patient of the Snapchatting doctor—who in January performed massive amounts of surgery on Teen Mom 2 star Kail Lowry and Teen Mom 3 stars Briana and Brittany DeJesus—is Lindsey Harrison. Lindsey, who starred on the fourth season of '16 and Pregnant,' was received huge breast implants this morning from Dr. Miami…and the surgery was Snapchatted for the world to see.
You may remember Lindsey Harrison as the girl from the show who wanted to be a cage fighter. Since her episode aired four years ago, Lindsey married a man who recently adopted her daughter, Aniyah.
She's been keeping a relatively low profile since then…until recently when she signed on with a new manager who just happens to represent Briana, Brittany and 'Teen Mom 3' star Mackenzie McKee, all of whom have received free plastic surgery thanks to their manager.
(Farrah Abraham was also managed by the same person for a period of time— the period in which she starred in her infamous sex tape/p0rno/backdoor nightmare of a film. Farrah also received a variety of comp plastic surgeries during this time.)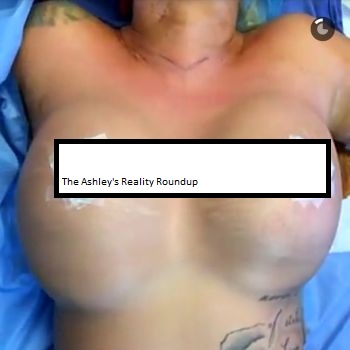 Anyway, Lindsey decided to take full advantage of the offer of free surgery and chose to get breast implants. However, she did not just want any ol' implants—no sir! Lindsey chose to receive implants sized at about 800cc.
According to Dr. Miami, 800cc implants are the largest implants that he is legally allowed to use. (Since Lindsey's breasts were apparently different in size, one breast received a slightly smaller—but still giant—750cc implant.)
Lindsey can be seen on Dr. Miami's Snapchats doing a pre-surgery interview stating that breastfeeding her daughter gave her a lot of stretch marks. She also told Dr. Miami that she wanted to be "top heavy."
Mission accomplished!
For reference, reality star Heidi Montag's infamously large implants (which she later had taken out because they were causing her major health issues) were "only" 650cc. Lindsey's new implants are significantly larger than Heidi's ever were.
The Ashley predicts that we will see Lindsey doing a staged (possibly topless?) beach photoshoot within the next month or so. Whether or not she ends up as part of a "leaked sex tape" scandal a la Farrah and Mackenzie remains to be seen..