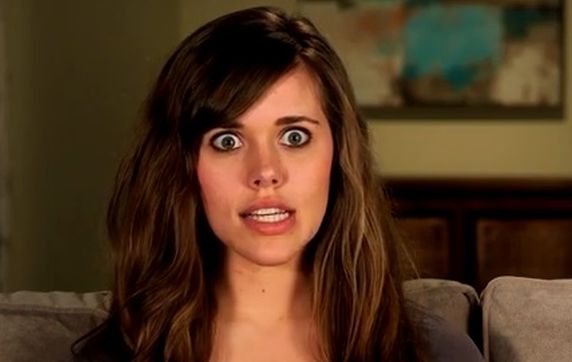 By Holly
The Duggar family is back on TLC via Jill and Jessa: Counting On, and while the show's ratings are good, the network is having a hard time getting advertisers for the show! Many of the show's big name advertisers are pulling their ads, despite the fact that the ratings for 'Jill & Jessa' are nearly double that of its predecessor 19 Kids and Counting when it debuted last year.
UPS, Verizon Wireless, Mattress Firm, Choice Hotels and Wrigley are just a few of the large companies that have already cut ties to anything Duggar-related. Wrigley even went so far as to release a statement last month that confirmed that the company was distancing itself from the show.
"Wrigley no longer advertises on television programs featuring the Duggar family; and any ads that have recently aired during TLC shows featuring the Duggar family were done so in error," the statement read.
The Duggars' reality show was once a prime show for family-friendly advertisers to run their ads, but after the numerous scandals involving Josh Duggar last year, advertisers have been pulling their ads in droves. As The Ashley previously reported, Josh admitted to molesting five young girls (four of whom were his sisters) when he was a teenager. A few months after that information went public, Josh admitted to being addicted to porn0graphy and cheating on his wife.
With the Duggars' wholesome image ruined, TLC cancelled '19 Kids and Counting,' but cast the Duggar kids in the 'Jill & Jessa' spinoff, which premiered earlier this year.
Some of the companies that have ditched the Duggars are still seeing their ads run during 'Jill & Jessa,' and a few have spoken out in anger about it.
CiCi's Pizza has stated that its ads were mistakenly run during a recent episode of 'Jill & Jessa.'
"CiCi's prides itself on being a family friendly restaurant," rep from the eatery said in a statement to In Touch Weekly. "We recently made a large advertising buy on cable television that spanned several networks but did not target any particular program. When we learned one of our ads was placed adjacent to controversial programming, we took immediate action to stop it."
Mattress Firm also denied supporting the Duggars.
"After learning we had two ads run during the premier of the new TLC show 'Jill and Jessa: Counting On' we have instructed TLC not to air any future paid units during this show," the company told In Touch in a statement.
While this may look bad for TLC, the network appears to be sticking by the Duggars.
"At the end of the day we have millions and millions young loyal viewers who support the [Duggar] girls," TLC General Manager Nancy Daniels recently said, adding that she believes the people against the show are a small but vocal group.
One writer has even been keeping a running total on his blog of the companies that currently advertise during 'Jill & Jessa,' and which companies have pulled their ads.
The reaction of the public to the new Duggar show has been mixed. When In Touch Weekly published its report on the show losing advertisers, the comments left on the magazine's Facebook page varied in the level of support for the Duggars' show.
"Maybe they need to think about healing the whole family instead of being on TV," one person commented.
"What is really sad about this whole mess is that Josh has ruined it for his siblings to do anything on TV," another wrote.
'Jill & Jessa: Counting On' currently airs on Tuesday nights on TLC. Click here to read our recaps!
(Photo: TLC)