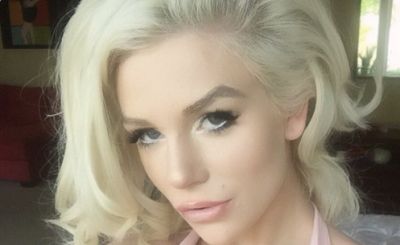 Courtney Stodden's career isn't the only thing that's on fire right now– so was her hair! Literally.
The star of The Mother/Daughter Experiment accidentally lit her own hair on fire last night while she was doing a bizarre seance live on Periscope. Courtney, along with her psychic friend Sham Ibrahim, was attempting to contact the spirit of pop star Michael Jackson when she accidentally plopped her bleached blond locks into the flame of a candle.
In the video posted below of the incident, Courtney can be seem screaming and attempting to swat out the flames. She puts out the fire before it could seriously injure her, although she reported on Twitter on Monday that the incident had scorched her bangs.
She also tweeted that she felt that she caught her hair on fire for a reason: to prove that she really did connect with the spirit of Michael Jackson.
"Michael Jackson contacted me last night through the Seance with @Shampopar," Courtney tweeted. "MICHAEL MADE MY HAIR CATCH ON FIRE LIKE HIS DID." (In case you're too young to remember, Michael Jackson did indeed catch his hair on fire back in 1984, while he was filming a Pepsi commercial.)
"Yes Michael Jackson was there and my hair caught fire for a reason … A sign from the king of pop. I feel honored," Courtney tweeted.
In an interview with the New York Daily News, Sham the psychic said that Michael revealed during the seance that he was holding Courtney's hand during her recent nose job surgery. He also claimed that, in addition to Michael Jackson, he and Courtney were also able to contact deceased singers Kurt Cobain and Amy Winehouse last night. As you do.
Courtney is currently starring on 'The Mother/Daughter Experiment' on Lifetime. Click here to read all about her wacky hi-jinks on the show!
Watch Courtney scorch her hair in the video below:
Yes Michael Jackson was there and my hair caught fire for a reason … A sign from the king of pop. I feel honored pic.twitter.com/TMCnrG5bmD

— Courtney Stodden (@CourtneyStodden) April 4, 2016