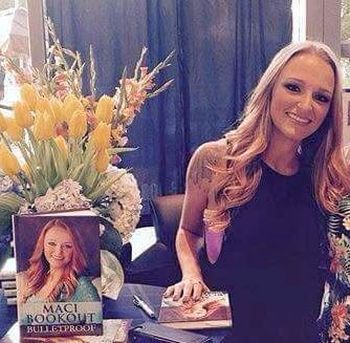 Maci Bookout's book, Bulletproof is Number 12 on the iTunes Top Chart, and it's no surprise that fans are eager to get their hands on the Teen Mom OG star's book. After all, they've waited for years for the book to come out!
In an exclusive interview with The Ashley last month, Maci discussed why it took her so long to release Bulletproof, and how she felt as she watched other 'Teen Mom' franchise stars release their books before she could release hers.
Although Maci announced back in 2010 that she was writing her book, it would be over five years before the book was actually released. Maci said that an unfortunate event is mostly to blame for the delay.
"I started the book years ago and I had a lot of the book written and my laptop got stolen in the spring of 2013," Maci told The Ashley. "It had all of my writing on it. I even tweeted, begging whoever stole my laptop to just send me back my book writings. Pretty much I had to start from scratch after that. I was absolutely devastated and so angry."
She was also scared, knowing that someone could make big bucks selling her personal thoughts to the tabloids.
"I think I was more worried about whoever stole it getting the stuff off of it and putting it out there before I could," she said. "But luckily, that didn't happen."
Having to rewrite the book from the beginning meant the book would be delayed a few years. In that time, Maci watched her 'Teen Mom OG' co-stars Amber Portwood and Catelynn Lowell and Tyler Baltierra release their books, as well as Teen Mom 2 star Kail Lowry. (Farrah Abraham had already released her memoir in 2012.)
"That was hard," Maci admitted. "I'm happy for everyone, I didn't want to take away from their books, but it was almost like, 'Oh my God, I need to jump on this train too. My book would have been out by now too! Naturally, it made me push to get my book out."
Despite the fact that the market is now somewhat flooded with 'Teen Mom' books, Maci said that she thinks there's room for everyone's story.
"It's kind of like on the show," she said. "We are all so different, and have such different stories and backgrounds that not everyone will relate to me and my story. So I think it makes sense for everyone [on the show] to put their stories in a book, just like I did." (It looks like 'Teen Mom 2' star Jenelle Evans will soon be joining the 'Teen Mom' Book Club. She announced back in April that she is writing her own memoir.)
Of course, The Ashley had to ask Maci about the book cover controversy started by Maci's "pal," Farrah Abraham. Back in March, Farrah slammed the other 'Teen Mom' authors for not putting photos of their children on the covers of their books like she had done on hers. Maci's book cover does not feature her children, and she said there's a very specific reason for that.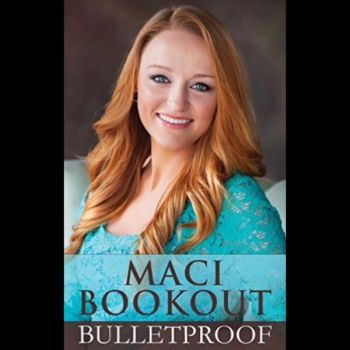 "In the book, there's obviously a lot about Bentley and my pregnancy with him and birth, but the book… is a reflection of my life and my thoughts, and me as a person. I don't want anything in the book to reflect him as a person, or his personality, because he's his own person. He'll have his own life to live and story to tell. To me, it wasn't inappropriate [to put Bentley on the book cover] but it wasn't necessary. If that's the case, then Ryan and Taylor and Bentley and everyone should be on the cover of the book!"
Ironically, Farrah started the book cover controversy right before Maci was to take the photo for her own cover.
"It was hilarious that when Farrah tweeted about the other girls' book covers [not having their kids on them], I was actually on my way to do my photoshoot for my book cover," she said. "I was like, 'Well you can add me to the list.'"
For those of you who want to meet Maci at a book signing, The Ashley can reveal that Maci will be at Books a Million in Cleveland, Tennessee, on August 3! 
To read Part 1 of The Ashley's interview with Maci (where she talks about her ex Ryan Edwards' thoughts on the book), click here!
To read Part 2 of the interview (where she talks about how the book may change fans' opinions of her), click here!
Bulletproof is now available on Amazon! Click the link below to order a copy!

(Photos: Facebook, Post Hill Press)