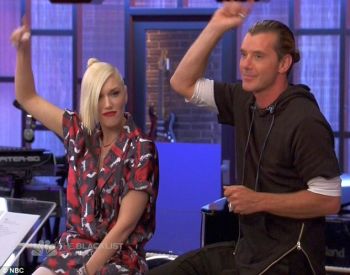 Is there something in the water on the set of The Voice this season?! Yet another one of the show's coaches has filed for divorce from their spouse!
Just weeks after her fellow coach Blake Shelton announced that he and his wife Miranda Lambert were divorcing, Gwen Stefani filed for divorce from her husband of 13 years, Gavin Rossdale. TMZ just broke the news that Gwen and Gavin have officially split.
Gwen and Gavin have been together since their bands, No Doubt and Bush, respectively, toured together in 1995. They got married in 2002 and are now the parents of three children. The couple has made it no secret that they've been in marriage counseling for years.

According to TMZ, Gwen and Gavin do not have a prenup, therefore their assets (which total over $115 million combined) will probably be divided up equally, even though Gwen is worth double what Gavin's worth. They are also both seeking joint custody of their kids. Gwen will not be providing spousal support to Gavin, the site reported.
Gwen and Gavin released a joint statement to Us Weekly today.
"While the two of us have come to the mutual decision that we will no longer be partners in marriage, we remain partners in parenthood and are committed to jointly raising our three sons in a happy and healthy environment," they told Us. "To that end, we respectfully request privacy from the media during this time."
In an interview earlier this year, Gwen talked about how proud she was of her long marriage to Gavin.
'We both want to be married," she said on the Today Show in January. "We both want to be good parents, and so I feel really proud of what we've done together."
As you Roundupers know, The Ashley is an avid Gwen Stefani fan, so she is devastated by this news. She will update this story when more information becomes available.
Until then…let's remember the good times. Below is a video of Gavin and Gwen singing U2's "The Sweetest Thing" together in 2003. It is one of the only times they've publicly performed together.