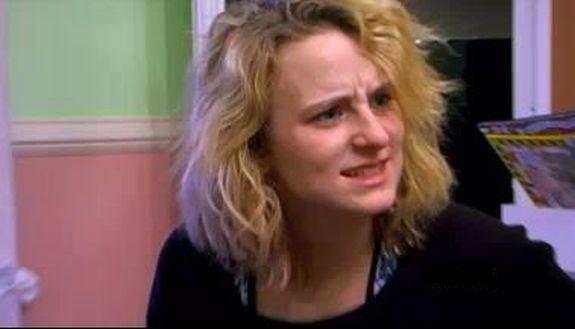 Throw your hairspray into your TrashMobile and get on over here! It's time for another episode of Teen Mom 2! So far, the show's sixth season has been very, very good to The Ashley, providing her with a lot of recap material but, alas, not much Barb-time. Let's hope that changes and we get to see a lot more of Babs' cackling mug this episode!
This episode is entitled "Not Good Enough" which could be describing numerous things. Could they be talking about Jo's rap skills? Or possibly Leah's attempts to keep her hooha away from the private parts of men she's not married to? We'll just have to wait any see!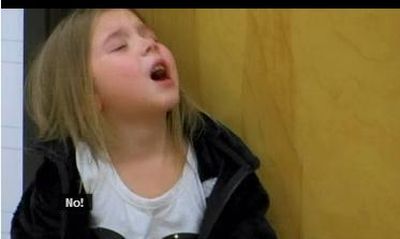 The episode starts off in South Dakota, where Aubree is having a "hard time adjusting" to life after being at Adam's house. She's misbehaving at school, hitting kids (a la Jace) and is refusing to apologize.
Chelsea arrives to pick Aubree up and is informed that Aubree has been terrorizing kids. Aubree runs away from Chelsea, screaming and Chelsea busts out the all-mighty "Count to three" threat. When she reaches three, however, Chelsea doesn't do anything but beg Aubree to stop making her look bad on camera. Terrifying.
In Delaware, Kail and Javi are still fighting. Kail's trusty friend Sterling is back to listen to Kail's marital issues. Kail tells her that she regrets rushing into getting married and popping out another baby with Javi.
In South Carolina, Jenelle has finally gotten her mitts on Jace, after weeks of not seeing him. Jenelle's purchased a ship captain costume for Jace and he is excited to wear it. (Nathan didn't get one because, unfortuantely, the store only sold costumes with full sleeves that did not allow Nathan to show off his pecs and other assorted chest muscles.)
Nathan and Jenelle inform Jace that they are engaged and he barely looks up from his toys. It's business as usual for Jace. He knows the drill: Random dude, engagement, possible baby/abortion/etc, eventual domestic violence arrest, breakup. Just add a bunch of crying in the car and that's basically every one of Jenelle's major relationships in a nutshell. Jace's over it.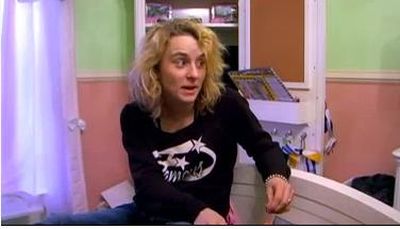 Finally, we go see what's happening in Leah's madhouse. She tells us that she's just picked up the girls from school and that they are all out of control. (With all the sugar from their grenade juices seeping out of their pores, it's no surprise.)
Ali and Aleeah are running around the room, smearing Leah's Mary Kay makeup all over their faces ("That's for my business, y'all!") and kicking their little sister. Aleeah's basically become a one-woman terrorizing machine, but Leah doesn't have time to deal with her behavior because she has to sit down and talk to her friend about how stressed she is.
As she's trying to explain to her (possibly rented?) friend about how hard her life is, Aleeah's in the background essentially trying to take the life of one to two of her sisters. Leah, knowing the camera's on her, gets up to finally discipline her daughter. She picks her up and gives her a spanking off-camera, sending Aleeah into a complete tailspin. Leah feels bad about the spanking but her friend assures her that, down in the hollers of The WV, a good whoopin' is normal.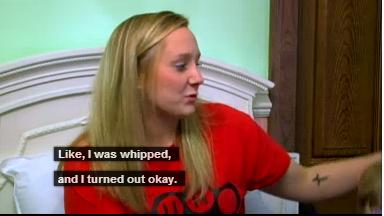 "I was whipped, and I turned out OK," she says.
I feel like if I made T-shirts with that saying on them, brought them down to Bohickey, West Virginia, and tried hawking them outside of The Wal-Mart, I could make enough money to essentially buy all of Leah's Mary Kay makeup from her and never have to work again. Oooh, I should make beer coozies and camo hats too. #BusinessVenture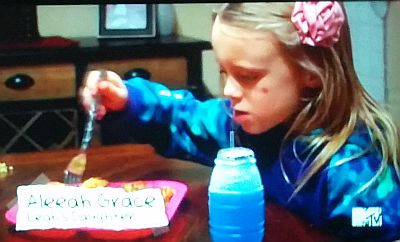 Leah says that she and Corey haven't talked about what a terror Aleeah has become because every time Leah tries to talk to Corey, he brings up stupid things like her doing drugs or her putting the kids to bed with a gutful of canned ravioli-like product at midnight. DERN HIM!
Later, Leah serves the youngins their typical dinner, which consists of some sort of Helper and a grenade juice. Aleeah's slopping it down, but Ali seems to have elected to starve rather than eat that mess and is throwing all of her dinner away. (Good thinking, Ali. A hunger strike might be a good idea!)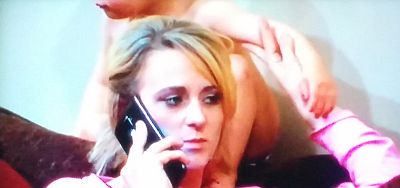 With the youngins fed (and the baby crawling around on Leah's head in just a diaper), Leah has the time to ring up her ma, Dawn, and complain about the darn Corey Tyler. She says she wishes she could talk to Corey about Aleeah's behavior but she can't because their relationship has gone downhill. She vows to at least meet up with him to discuss their options regarding custody.
Speaking of terrorist children, Chelsea is still worried about Aubree's behavior after returning from Adam's parents' house. Chelsea thinks that Aubree being around Adam is contributing to her naughty behavior, what with all the random chicks he's bringing around Aubree, and his inability to refrain from terrorizing the entire state of South Dakota on the regular.
Randy brings up Chelsea's boyfriend Cole, whom Chelsea says she didn't even introduce to Aubree until they'd been together six months.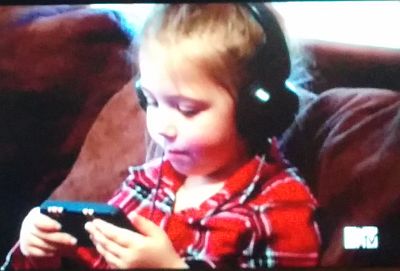 Then it happens: For the first time in 'Teen Mom 2' history, the characters acknowledged that they are on a TV show. Randy asks Chelsea how Cole feels about filming. They have broken the fourth wall, folks.
It's a new day guys. Does this mean that we're only one season away from Producer Heather (and her messy bun) invading our beloved 'Teen Mom 2'?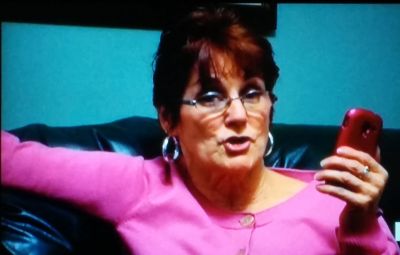 Back in Carolina, our gal Barbara finally gets her own "Call Ya Friend and Talk About the Stuff the Producer Tells You To" segment! It's a big moment for Babs. She's being all Chatty Kathy with her friend, telling her the "big news" that "Juh-nelle is engaged…again!" Babs tells her pal that she hasn't been "talkin' to Juh-nelle in about a month" and that she still has full custody of Jace and that she doesn't plan to change that.
I wonder if Babs and all her similarly-strange-voiced pals get together every week for a bridge game or something? I picture them, all dressed up, playin' cards, talkin' crap on their "bitch of a daughtas" and drinkin' wine that was paid for by MTV. Um…I smell a "Real Housewives: Carolina" show in the making here, guys. Make it happen!'
Anyway, Barb tells her pal that Jace would be doomed if he were to go live with Nathan and Jenelle. Between the yelling, constant fighting and frequent arrests, Jace would be knocking off liquor stores (Butch-style) by the time he was 14. She's determined to keep Jace at her house.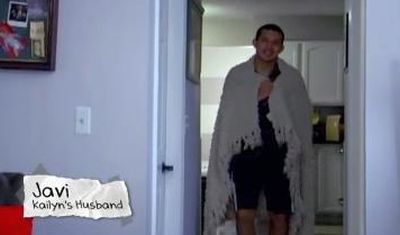 In Delaware, the sad music is playing which means something big is about the happen. Kail is sitting in the living room, and in waddles Javi, cloaked in a blanket, looking like Mother Theresa.
They decide to talk about their issues, one of which is that Kail wants to hang out with her friends on weekends and not deal with Javi's neediness. Javi claims that spending time together is part of a marriage, but Kail says that she doesn't want to spend time with Blanketed Javi because they only fight.
Kail says that she and Javi are not "dialoguing" with each other, and that they are on the edge of separating or getting divorced.
DUN.DUN.DUN.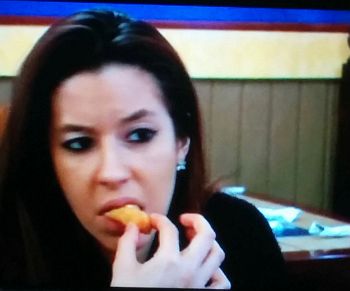 In Jersey, Jo is being quite the gentleman to Vee. He's opening doors of the fast food joint and even allowing her to get the deluxe fries, all in hopes that she will agree to move to Delaware with him.
She's still not sure about this whole move, but I'm not paying attention to what she's saying because I'm transfixed on watching her eat whatever fried product she's devouring. She's possibly trying to seduce Jo via fried food product (hey, it wouldn't be the first time that happened on this show!) and is eating the fry all seductively, perhaps in an effort to convince Jo to stay in Jersey.
Jo is undeterred, however. He's going to Delaware, with or without Vee, so she eventually agrees to go.
"I'm coming! I'm coming!" she tells Jo. (Why do I have the feeling that this is the first time Vee has ever uttered that sentence to Jo…)
Meanwhile, Adam's pumping iron at the ol' gym. In between lifts (and the veins popping out of his balding head), Adam is telling his friends that, "the sober life is the way to be." (Even he can't keep a straight face while saying that. He has to turn his face from the camera to stop from laughing.)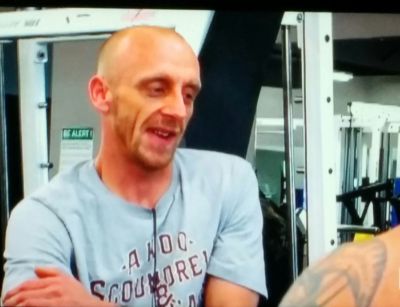 Adam says he's been sober for about 18 months. The dude that he is talking to at the gym about this seems like he knows his way around a Narcotics Anonymous meeting, if you know what I mean.
Adam tells us that since he is building a house and is a personal trainer now, Chelsea and Taylor should just forget about all the STD-filled gals he's brought around, and the jail hours he's logged and give him his kids.
In West Virginia, Corey has the girls, who are fighting and crying.
"Y'all quit the pushin' and kickin'" Corey barks, but Aleeah barely hears him as she runs out of the room, screaming.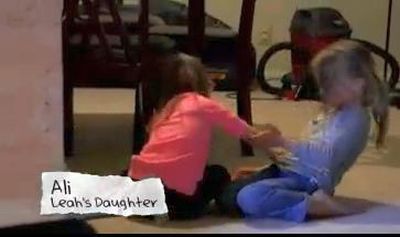 Aleeah, unable to find any colored pencils to stab her sister with, decides to simply knock her sister out by slamming the door in her face. Ali's down for the count and Corey's angry. He's starting to realize how hard taking care of two out-of-control twin girls will be.
"Just wait until they're 16!" Miranda tells him. (Let's just hope that when they reach 16, they're not on '16 and Pregnant.' That's a good goal to have.)
Later that night, once the kids have gone to bed, Corey explains to Miranda and his dad that Leah wants to talk about custody. He wants to call out Leah for being a bad mom, but he knows that he'll probably end up with a face full of spray Mary Kay foundation if he does that. Tread lightly, Corey Tyler.
In Carolina, Jenelle's laying the guilt trip on Jace big time. She's telling him that when he's not there, she has no one to talk to and she's lonely. Even Jace isn't buying it. He has this look on his face like, "Um…when I'm not here you're in your car crying over a dude. Come on, Ma!"
Jenelle says she gets sad because she doesn't have her baby boy beside her. (Um…did you forget about Kaiser Roll?!)
Jace brings up the fact that when he's at Jenelle's house, Barbara is all alone. Speaking of Babs, Jenelle gets a phone call from "her motha" just then.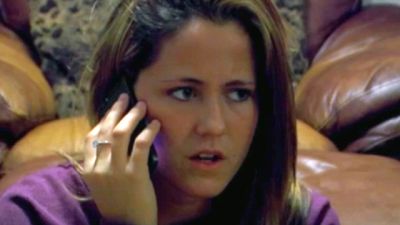 Babs, bless her cackling heart, starts the convo off with a, "Oh, hi Juh-nelle!" (I know that one was just for me, Barb!)
Barb tells Jenelle that she'll be coming to pick up Jace the next day. After they hang up, Jenelle explains to Nathan that Barb will be coming over the next day and to basically put the testoterone rage on hold for a day or so.
In South Dakota, Chelsea visits the visitation center where Adam would be seeing Aubree, but she's not sure how she feels about forcing him to go there.
"It's a place where kids have to go because their parents are crappy," Chelsea says, adding that it makes her sad to think of Aubree there. She hopes that Ma and Pa Lind will step up and supervise Adam's visits so that it doesn't come to that.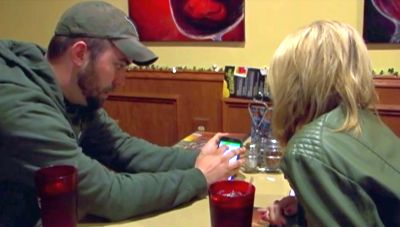 We check in with Leah, who's meeting up with Corey at a restaurant for a discussion about the twins. Leah's brushed her hair for the occassion and is fixin' to stand up for herself. Corey whips out his handy-dandy phone calendar to visually explain to Leah how the custody situation would work. (Because of this, we see that this scene was filmed on March 10, 2015!)
Corey wants all custody split in half, and says that all time that the girls spend at his house will be time spent without him having to worry if they are attending school or being fed out of Robbie Kidd's dumpster. Leah thinks that Corey is judging her mothering skills.
Corey explains a recent event in which Aleeah explained to him that she knows how to make toast. When asked by Corey how she knows how to make toast, Aleeah explained that she had to learn out of necessity, given that her "mommy's a sleepyhead" who forces her to make her own breakfast.
Um…duh. Leah has to sleep it off once in a while. I'm sure Aleeah has only electrocuted herself once or twice anyway. It's good for a kid. The shockwaves help them develop cognitive skills.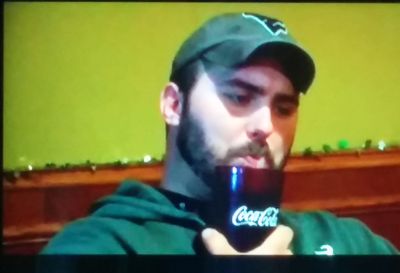 Leah doesn't think it's that big of a deal that she doesn't get up to make her babies breakfast. They'll get their raviolis eventually. Geez.
Corey says that the girls are coming in late to school over 10 times a month, but Leah explains that's clearly Corey's fault because he's threatening to her…or something.
"It feels like someone's got a plot against me!" Leah exclaims.
Paranoia…hair that looks like it's been deep-fried… I don't have any clue why Corey thinks Leah's been doing The Drugs.
In Delware, it's a love fiesta for Javi and Kail. They've gone to therapy and are now hitting up a local Mexican restaurant to discuss their fights. (Oh, I mean "dialogue.") They realize that their marriage therapy isn't helping, but Javi feels it's a "fresh of breath air." They resolve to keep trying to stay together. (Can MTV resolve to make their segments more exciting?)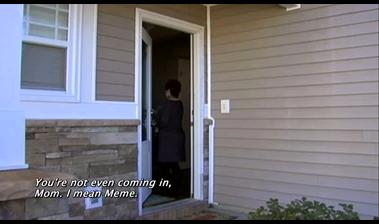 Meanwhile, Babs has arrived at Jenelle's house. "Oh, hi! I'm here Juh-nelle!" she says as she enters. She admires the house (and Kaiser Roll, whom she is surprised to see has gotten so big) and Jace comes out to greet her. He calls her "Mom, I mean Meme" multiple times and seems very confused on what to call these women in his life. He keeps calling Babs "Mom," and Jenelle keeps thinking he's talking to her. Awkward.
Babs is talking to Kaiser, "Do ya not know me? I'm ya otha grandmotha!" she tells him.
She then asks Jenelle if she and Nathan are still "fighting all the time, constantly." Jenelle seems offended.
"No. We haven't fought in a while," she says. (Re: last episode)
Barb tells Jenelle that Jace acts out in school when he comes back from Jenelle's house, and that quickly turns into an argument.
"It's always Barbara talking or Nathan talking!" Jenelle wails before busting out an epic third person rant. "Jenelle can never speak a word!"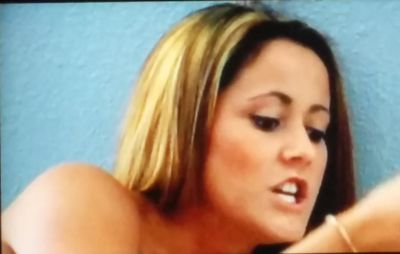 Jenelle tells Barb that Jace needs more time with his mother. She then brings up that Jace shouldn't be calling Barbara "Mom."
"Mom is my name!" Jenelle says.
The episode ends with everyone looking half-asleep, surely tired of being 20-somethings who are still pretending to be teenagers.
You were right, MTV. This episode was surely "Not Good Enough." We need more scenes involving Leah's trash-filled car next time. Thanks.
To read The Ashley's recap of last week's episode of 'Teen Mom 2,' click here!
(Photos: MTV)