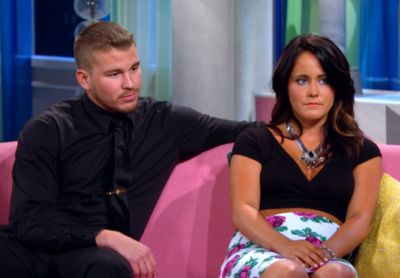 Just yesterday, Teen Mom 2 star Jenelle Evans told a North Carolina radio program that she and her on-and-off-again fiance, Nathan Griffith, were "working on" their relationship and made it sound like their latest breakup was only temporary. The only problem? It seems that Jenelle forgot to tell Nathan that!
In an interview with Radar Online posted today, Nathan blasted Jenelle and made it clear that their relationship is over.
"Jenelle is crazy," he told the site.
In fact, he's already seeing someone else, a fact that Jenelle alluded to on Twitter yesterday.
Nathan says he is now dating a girl named Jessica Henry, and claims that he only got back with Jenelle the most recent time because he felt bad for her.
"We have a family together and I believe in second chances, so I gave it to her. I have a big heart. But now I am done. I can't go back to all of that."
The Ashley can confirm that Jenelle and Nathan seemed very much together off-camera during their recent trip to LA for the Season 6 reunion. (Nathan stayed in the same hotel room as Jenelle, while all the other girls' exes were put at another hotel nearby. Only the girls' current beaus stay at the same hotel as the girls, for safety reasons.)
Anyway, Nathan told Radar that Jenelle tried to scare him into staying with her.
"She kept telling me 'I'm going to ruin your life,' and I just don't care anymore," he claimed. "I don't care. I can't take it anymore. Jenelle is addicted to drama."
Well, that's not exactly front page news there, Nate.
Nathan also took a few jabs at MTV, just for the hell of it.
"MTV feeds into her ego! They want her to get upset about things," he said. "When I got arrested the crew was there and they knew that I wasn't hitting her. They just don't care. That's messed up."
Of course, Nathan's hate for MTV is not enough to keep him from doing another season of 'Teen Mom 2,' should the paycheck be offered.
"If I do do another season it is going to be very different and on my terms," he said.
The Ashley wants to interject here: Nathan saying this does not mean that a seventh season of the show is happening. All of The Ashley's show sources tell her that nothing's been decided in terms of another season of 'Teen Mom 2' happening.
To finish the bombshell interview, Nathan suggested that Jenelle seek psychological counseling.
"She needs help," he said. "She really does."
Nathan was, of course, paid a pretty penny for his words by Radar Online.
Jenelle has responded to the interview by telling a fan that she left Nathan.
And this, guys, is why The Ashley rarely goes down the Jenelle-and-whoever-she's-dating rabbit hole. It just gets really weird.
(Photo: MTV)