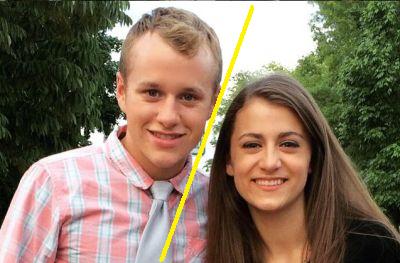 By Holly Rasmussen
A Duggar family courtship has ended without a bride walking (barefoot) down the aisle! Just four short months after the family announced that 18-year-old son Josiah was courting 17-year-old Marjorie Jackson, the relationship is over.
Fans had started to become suspicious that there was trouble in courting paradise for the couple after Josiah suddenly went silent on Instagram. (He hasn't posted a photo in eleven weeks.)The Duggars announced on their official family Facebook page today that Josiah and Marjorie had broken up.
"Many of you have asked us about Josiah and Marjorie," the family wrote in a statement. "Both Josiah and Marjorie have enjoyed getting to know each other and to build their friendship over the past months. We are so grateful that they each are seeking the Lord's will for their future. A few weeks ago Marjorie and Josiah agreed to end their courtship, keeping in step with what they believe the Lord's will is. Both are thankful for the time getting to know each other, and their families continue to enjoy each other's company and close friends."
The couple announced their courtship in April, about a month before the sex abuse scandal involving Josiah's older brother, Josh, broke. When Marjorie accepted Josiah's courtship offer, the Duggar family's show, '19 Kids and Counting' was still on the air, and the prospect of a big, TLC-funded wedding was still on the horizon for Marj and Si. Fans have speculated that the split was directly related to the recent Duggar controversy, although neither Marjorie nor her parents have confirmed this.
As The Ashley previously reported, Josh admitted back in May to molesting five young girls (four of whom were his sisters) when he was in his teens. It seems the Jacksons may want to get their daughter as far away from the Duggar drama as possible!
Since '19 Kids and Counting' was recently cancelled by TLC, we will not get to see this split play out on television. And since Duggar children are only allowed to have social media accounts if they're courting, Josiah may have to cancel his Instagram and Twitter accounts. At press time, the accounts remained active, and Josiah was still using a photo of him with Marjorie as his profile pic.
While Josiah's broken courtship with Marjorie is the first Duggar courtship to fail publicly, it is not the first time the family has experienced this. Before Josh courted his now-wife Anna Duggar, he was rumored to have been in a pre-courtship with another girl who ended the courtship before she could marry Josh.
(Photo: Instagram)