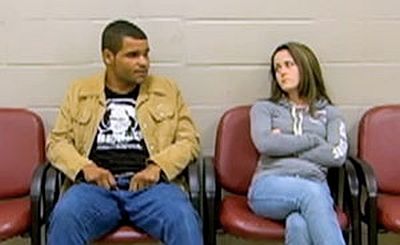 "Well Juh-nelle….we seen ya wif Kieffa– AGAIN!"
That's right, Teen Mom 2 fans: Jenelle Evans was spotted last night rendezvousing with her ex-boyfriend and partner in crime, Kieffer Delp! Kieffer, the sometimes homeless, usually law-breaking ex who helped Jenelle spiral down into heroin use a few years ago, appears to be back in her life. This comes just days after Jenelle's former fiance, Nathan Griffith, declared that he was totally done with her and dating someone new. 

An observant 'Teen Mom 2' fan was the first to see Jenelle "wif Kieffa." The pair were spotted waiting to buy drinks at a bar in Murrells Inlet, South Carolina. Jenelle and Kieffer apparently had a "la dee dah" time drinking and bar-hopping by the beach, as they were spotted at numerous bars throughout the night. 
Just last week, Jenelle was asked about Kieffer in an interview with a North Carolina radio station.
"We talk every once in a while. He's doing fine," Jenelle said. "He has a job and his own apartment and stuff now. I'm really happy that he's got his life sorted out."
Rumor has it that once Nathan heard that Jenelle and Kieffer were out carousing, he met up with them and got into a fight with Kieffer. (The Ashley cannot confirm this report, however, and she does not have any confirmed details as to why they were fighting.)
Jenelle's other ex-fiances (there are so many!) chimed in on Twitter, offering their thoughts on the Kieffer and Jenelle reunion.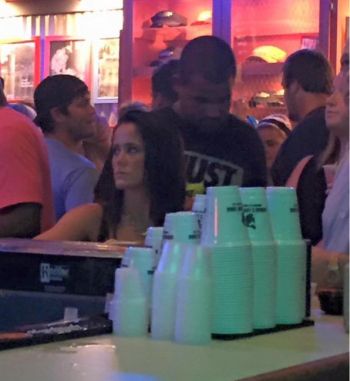 Courtland Rogers, the only man (so far) to actually make it down the aisle with Jenelle, tweeted a message that was surely meant for Jenelle regarding her questionable-hygiened companion.
"I know u see this so for the record… I forgot how much better than u I was lol thank god for self worth.. Make that boy take a shower," he wrote.
Gary Head, who was engaged to Jenelle a few seasons ago, tweeted (and deleted) a screenshot of a conversation he had with Jenelle about coming to stay with him. He claims that it was from last week.
Unfortunately, none of this will be shown on 'Teen Mom 2.' The girls have already completed filming Season 6, and have not signed on for a seventh season so they are not currently filming (despite what you've read on other sites!)
So Kieffer's back and Butch Baltierra is out of prison…is it 2012 again or something?!
(Photos: MTV, Twitter)