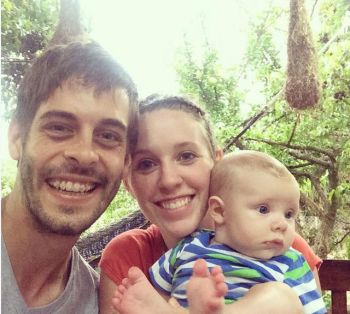 By Holly Rasmussen
In case you haven't heard, 19 Kids and Counting stars Jill and Derick Dillard, along with their infant son Israel, are in Central America doing the Lord's work. (Don't forget to send them money!)
While Derick has kept us up-to-date via blog posts on the preaching' that he and Jill have been doing down there, we had yet to hear from Jill. Late last week, however, she posted her first blog update in which she discussed the dangerous situation they are facing in Central America.
Jill let everyone know that the family has been evangelizing to the locals, helping with youth conferences and soccer tournaments and just generally "loving on the people." Jill said she is working on learning Spanish and that baby Israel is thriving.
However, it is not just one big vacation. Jill said they have come face-to-face with people dealing with gang violence on a daily basis.
"The gang violence has been something we have been very aware of, especially during the last month," Jill wrote. "We have had the opportunity to minister to several gang members and even see some come to freedom in Christ! One of our main focuses while we're here will be to provide ways for the people in these communities to be educated and/or have work so the kids won't follow the parent's footsteps."
Jill said the violent environment has made some people more open to Christianity.
"Because of the violence and fear in some areas we were in, people face the frequent reality of eternity and are more open to the gospel because of it."
Well, that sounds like a safe environment to take your infant son…
Jill said that she and Derick will be in "language school" this month. (Right now Jill is learning Spanish by having locals write words in a notebook for her.) However, the family will soon be coming back stateside for quick visit. (Perhaps to film the upcoming TLC sexual abuse special?)
Get the tater tot casserole and pickles ready, Michelle.
Many fans criticized the family for raising money to go to Central America when there are so many people in need in their own backyard. Jill quoted Romans 15:20-21 in the post and it seems as if it may be a response to those criticisms.
Back on the Duggar homefront, things have not been so great. Jill's little brother, Josiah, recently ended his courtship with Marjorie Jackson, and Jill's family are losing millions of dollars after being shunned from TLC.
(Photo: Instagram)