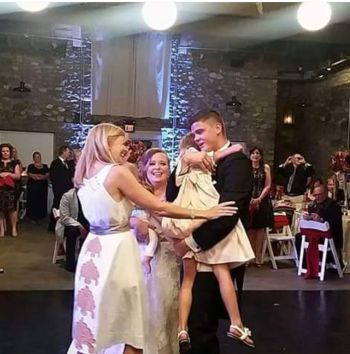 These photos even warm the cold, cold heart of The Ashley!
Catelynn Lowell and Tyler Baltierra hosted over 150 guests at their wedding this weekend, but one guest was a bit more special than the rest. The couple was delighted that their oldest daughter, Carly, was able to attend the wedding! Brandon and Teresa Davis, her adoptive parents, were also there.
The couple even shared a special moment on the dance floor with Carly and her parents.
In photos posted to various Facebook accounts, Tyler is shown dancing with his firstborn (who is now six years old!) while Catelynn danced with the couple's infant daughter, Nova. Brandon and Teresa later joined them, bringing their adopted son out with them.
(The Ashley chose to not post any photos that show Carly's face, per her parents' previous wishes.)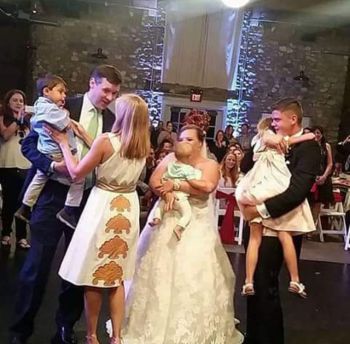 Catelynn and Tyler placed Carly for adoption right after her May 2009 birth. Over the years, her adoption has been a frequent topic on 'Teen Mom,' and last season things got tense between the couple and Carly's adoptive parents. However, Catelynn denied the rumors that were circulating in March that Brandon and Teresa had cut her and Tyler off from communicating with Carly.
"All the crap of ppl saying that Carlys parents are taking away communication from ty and I are all lies! Don't always believe what u read!" she tweeted.
The wedding photos from Saturday clearly show that Tyler and Catelynn have maintained a great relationship with Carly and her parents. While Carly attended the wedding, she did not participate in the ceremony like Nova did.
The Ashley posted all the exclusive details on the wedding, as well as a bunch of photos. Click here to read that post!
(Photos: Facebook)