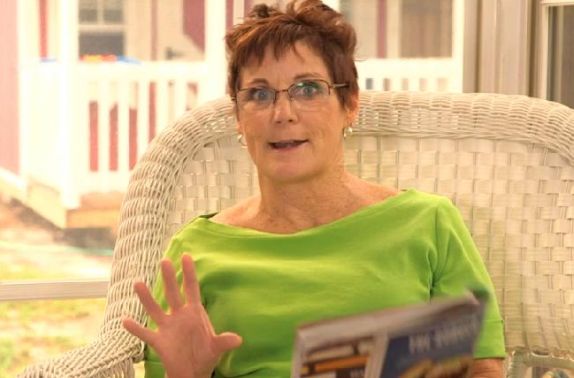 MTV has dropped a little bit of heaven off for The Ashley today! The network gifted us with a plethora of Barbara Evans in the form of a "Babs Breaks it Down" webseries! The nine new videos are just precious and feature only Babs! Babs! Babs! (No Kieffa or that "bitch of a daughta" of hers, Jenelle Evans, to muck things up!)
In the new videos, Barbara does household chores (because someone's gotta wash the baby's clothes!) while giving us her opinion on a variety of topics, including her daughter's ex-fiance, Nathan Griffith, and Jenelle's 'Teen Mom' franchise co-star Farrah Abraham!
In case you're at work and unable to watch the videos without your boss finding out what a creepy 'Teen Mom' fan you are, The Ashley has attempted to summarize a few of her favorite Babs videos. However, she highly encourages you to watch the videos if you can, to get the maximum Babs experience.
What follows are Babs' take on a few hot topics…
On Nathan Griffith:
Barb dished on her daughter Jenelle's ex, Nathan, while doing the dishes.
"Nathan was quite the gentleman when he came in the first time," Barb tells us. "Pssh, was I fooled!"
Babs held nothing back while describing her daughter's ex (otherwise known as "Mista Disrespectful #2″).
"I don't trust him at all! He's a user, and it's aaaaall about Nathan," she said.
According to Babs, Nathan is as conceited in real life as he appears on 'Teen Mom 2.'
"He's just so into himself!" she says. "He's just a pretty boy and he's just disrespectful! He's disrespectful to me, he's disrespectful to his motha. He treats Juh-nelle like a daaaawg! He's controlling, she's unhappy."
Babs also gave us insight on how Nathan convinced Jenelle to have his kid.
"He talked her into having Kaisa!" Babs said. "He said, 'Let's have a baby.' Let's have a baby?! She just had an abooooortion from her ex-husband, Coooourtland and then he's talkin' her into getting' pregnant! Now she has his baby and now what?!"
"He's like an A-1 assh*ole!" Babs exclaimed.
On Farrah Abraham:
Barb gave her opinion on everyone's favorite "Backdoor Teen Mom."
"Ya know I can't believe that Faaarrah did a p0rno flick!" Babs exclaimed. "It is to me, like totally disgusting! Disgustin'!"
Babs also regaled us with the tale of how she learned that Farrah has a line of sex toys.
"One of the security guaaaaahds when we were filmin' one day showed me a picta of it!" she said. "O-M-G!"
That rascally Babs decided to spice things up at her workplace by spreading a little rumor about Farrah.
"I went into Waaaahl-marrt and I told everybody it was her actual hoo-ha thing! So everyone thinks she had reconstructive surgery done on her vagina and actually it was her sex toy line!" Babs cackled.
"I spread that whole rumor around town!" she added. "Sucks to be you, Farrah!"
On Plastic Surgery:
"Ya know, everybody these days is gettin' plastic surgery!" Barb said. "Ya know, I would love to look like I'm 20 again, but let's be real, ya know!"
Babs says that she can always tell when someone's had surgical enhancements.
"They may have a 20-year-old face, but look at their neck, man!" she exclaims. "They're like, eiiiiiighty!"
Barb's daughter, Jenelle, got herself a boob job a few years back, and Barb had something to say about that procedure as well.
"Ya know they're implants because they're haaaard!" she said. "Juh-nelle did them because she didn't have nuthin'!"
On Attending the Upcoming VMAs:
As The Ashley told you, some of the cast of 'Teen Mom 2' was invited to attend the upcoming MTV Video Music Awards. Apparently, Babs wasn't on the original invite list, but things have changed since then.
"I didn't get invited, so Juh-nelle made a lil' phone call there to LA, ya know, and I'm invited now!" Babs said gleefully. "I'm sooo excited to go!
Barb realizes that while she's strolling the red carpet at the music awards show, she may run into stars like Nicki Minaj or Kim Kardashian, whose butts are a thing of marvel for Babs.
"I mean it's like, how can ya ass be that big!?" Barb asked. "I mean, come on! And they think that looks good? I don't know!"
Oh Babsy, we couldn't love ya more!
Watch all of the "Babs Breaks it Down" videos here!