Corey Simms doesn't say much on social media, but when he does speak out, he usually holds nothing back. (Would could forget his infamous 'Life After Leah' tweet?)
On Friday morning, Corey aired his feelings out on Twitter after being criticized for his behavior toward his ex-wife, Leah Messer on last night's episode of Teen Mom 2.
During the episode, Corey and his wife, Miranda, confronted Leah about her alleged drug problem. Although Leah denied having any sort of addiction, she did decide to go to a rehab facility therapy center to get help. Corey pushed Leah to admit that she does, indeed, have a dependency to medication, but Leah refused.
Corey defended his actions by tweeting that there's much more to Leah's alleged problem than what is shown on 'Teen Mom 2.'
"Idk why I'm tweeting this because I honestly do not care what people think or what they say about me but anyways there is a reason for everything that Miranda and myself have said or done," he wrote. "We simply want the girls to grow up in a safe and healthy environment."
Corey then revealed that the stories about Leah's drug use have actually come from people in Leah's family.
"There is a lot of things that has been told to us by very close members of her family that lead us to believe the things being told are very much true," he wrote. "If we didn't care about the girls or the situation we would obviously not have anything to say or do about it Thank you to the people who understand and to the people that don't well that just sucks now don't it?"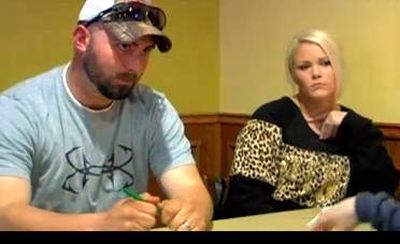 Miranda retweeted Corey's statements.
It was hard for even the biggest Leah fans to deny that Leah was experiencing some sort of problem with medication during last night's episode. During one scene, Leah is holding her brother Isaac's infant daughter while discussing her impending trip to rehab. Unfortunately, Leah is unable to stay awake during the conversation. Her eyes droop and her head drops, and Leah tells her brother she's simply tired.
Later, Leah speaks to her mom, Dawn, about going to rehab therapy, and Dawn expresses her worry that people will think Leah's going away to get help with a drug habit, when it's really stress and anxiety that she's getting treatment for (allegedly).
Leah says that she started taking meds after a botched spinal tap during Addie's birth.
"When I had the spinal tap with Addie, they had me on morphine at the hospital, did they not?" she asks her mom. "I got out of the hospital and I was prescribed Hydrocodone and Percocet and Tylenol 3 and when I was hurting so bad, I'd take the medication because I could take care of my kids and my back wasn't hurting.
"I came to you guys and said, 'I got this medication, I feel like I'm becoming dependent. I can't take this medication.' I stopped taking the medication.''
Dawn continues to deny that Leah has any sort of drug problem.
"I told you if I thought you was some major addict on drugs or something I would call Corey myself," she tells Leah.
"Some people don't know how much crap I've hid the past four years," Leah says.
Of course, MTV probably won't show you that Leah never made it on the plane during her first attempt to go to rehab. Luckily, The Ashley can give you the full scoop on what happened!
(Photos: MTV)