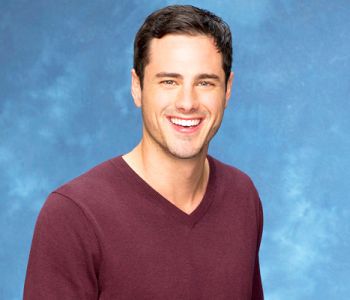 If you managed to sit through this week's horrorfest that is the "After Paradise" talk show, you already know that the next Bachelor will be Ben Higgins of Kaitlyn's season of The Bachelorette. The big announcement was made on Monday's "After Paradise" episode that the 26-year-old will be our next rose-giver come January 2016.
While other contestants from Kaitlyn's season were supposedly being considered (including two-time reject Nick Viall and bulky Ben Zorn), Ben H. ultimately won the role.

In the past, the producers have big personalities to star as the 'Bachelor.' From doctors to pilots to an actual prince, the men who have previously served as 'Bachelor' seem much more exciting than Ben, a software salesman from Indiana. When some of the show's fans predicted on Twitter that Ben's season will be "boring" because of that, Ben was quick to respond.
"Come on, we can't let that happen!" he tweeted in response. "My story may not be the most dramatic but that doesn't mean it will be boring."
Ben was a fan favorite during Kaitlyn's season, due to his sincere nature and desire to actually find love (instead of attention and/or a bed partner).
"I'm not extremely comfortable with the attention," Ben told Us Weekly before being cast as the Bachelor. "That is something I have to figure out…I think it's a great opportunity. I think it's something that any man, if asked, should consider. And I've been in the process now and I can see that it works."
At 26, Ben is one of the youngest men to ever be cast as the Bachelor. (Jessie Palmer was also 26 during his season back in 2004.)
According to People, Ben has already sought advice from Sean Lowe, who is one of the only Bachelors to actually find a successful relationship on this show.  (He married his 'Bachelor' pick, Catherine Giudici in January 2014.)
"Ben reminds me of myself back when I was gearing up for the show," Sean told the magazine. "Here's to hoping he's as lucky as I was and finds a woman who will flip his world upside down!"
For the record, The Ashley was hoping they'd bring back ol' Juan Pablo for another season as the Bachelor. He was recapping gold!
(Photo: ABC)