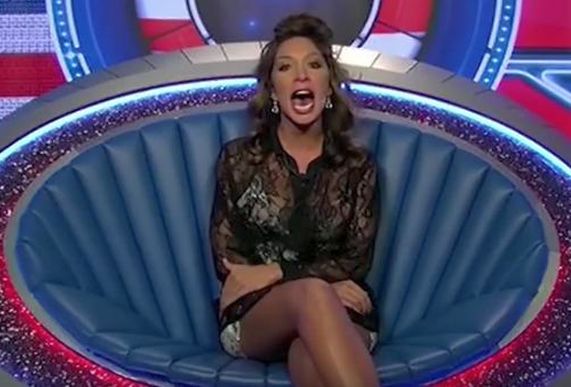 It was only a matter of time before The Ashley figured she'd have to write this story. We all kind of knew that there would come a day in which Teen Mom OG (and Celebrity Big Brother) star Farrah Abraham would start making death threats toward people.
Farrah has been causing trouble in the 'CBB' house ever since she arrived last month, but last night she took things to a new level when she went on an F-bomb-filled tirade while in the "Diary Room." Farrah, angry after getting into an altercation with UK singer Natasha Hamilton, stormed into the confessional area, breaking her flip flop sandal on the way in. Or something.
The broken footwear added to Farrah's anger, and she soon went on a long rant in which she threatened to "f**king obliterate the f**king scum" living in the house with her.
Is anyone else kind of surprised that Farrah actually used the word "obliterate" in the correct context? That Hooked on Phonics must be doing wonders for our Backdoor Teen Mom!
Anyway, Farrah continued with her death threat, telling the show's producers that they better fix her flip flop–or else!
"Yeah, and I'm just going to say this: If my f**king flip-flops are not f**king fixed because of your g*ddamn mouth over the f**king intercom, I am going to straight up f**king kill this whole f**king house!" she screamed.
"I am sick and tired of being bothered by scummy a**holes," she added.
Uh-oh, someone's "Anti-Christ attitude" is showing! 
Anyway, Farrah's mother, Debra Danielsen, seemed surprised about her daughter's actions when she was alerted to the video earlier today.
"Wow! I didn't see any of this yet! It hurts me," she tweeted of the video of Farrah's rant. "I am very sorry! God forgive her being upset!"
The Ashley has reached out to Debra for comment but has yet to hear back.
While The Ashley isn't able to keep up with the day-to-day goings-ons with Farrah (since The Ashley is in the United States), she will do her best to keep y'all posted if Farrah issues any more death threats!
Watch Farrah's tirade below: