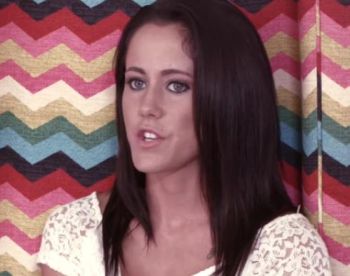 By Holly Rasmussen
During a trip to Los Angeles earlier this month, Teen Mom 2 star Jenelle sat down with RumorFix to discuss her life, her tumultuous relationship with Nathan Griffith and much more. The interview also covers Jenelle's sons Jace and Kaiser, her future in the dating world, jail time and her mental health.
Watching Jenelle do interviews is always entertaining and this interview was particular informative. Here are five things we learned from watch Jenelle's chat with Rumor Fix.
Of all the jerks that Jenelle has dated (and that's a lot of jerks!), Nathan was the biggest one of all.
Jenelle told the site that Nathan treated her badly.
"I've never been treated so poorly or disrespected," she said. "I think he just showed me all the qualities in a man that you don't want."
Apparently even Jenelle's young son Jace knew Nathan was trouble, according to Jenelle, who said that Jace would ask her if Nathan was going to be around and if he was then Jace didn't want to come over.
Jenelle found out about Nathan's account on AshleyMadison.com through a tabloid.
Nathan allegedly had a secret Ashley Madison account that Jenelle didn't know about. She found out about it when a tabloid contacted her and let her know that an email belonging to Nathan was found on the cheating site's hacked customer list. She initially thought the tabloid was contacting her because Nathan had sold them a story about her.
She's single but not ready to mingle.
Jenelle has jumped from one relationship to another for years, but the 'Teen Mom 2' star claims that she wants to stay single for awhile.
"I'm not looking to date anytime soon. If anyone pops up in my life then so be it, but I'm not going to go looking for anyone," she said.
The show's fans seem to be skeptical that Jenelle will be able to remain single for long.
She sees a psychiatrist.
Jenelle said she has panic attacks and generalized anxiety disorder. To treat her conditions, Jenelle said that she sees a psychiatrist regularly and takes medication.
She has full custody of her son, Kaiser.
According to Jenelle, she has full custody of her youngest son. Kaiser's father, Nathan, has visitation.
"Right now, in the state of South Carolina, when a child is born, the mother has full custody until the father decides to take her to court," Jenelle said.
Jenelle added that she doesn't want Nathan's new girlfriend around their son and Nathan doesn't like that. Jenelle said Nathan has not seen Kaiser in a while, although he has asked about him.
Watch Jenelle's full RumorFix interview below: