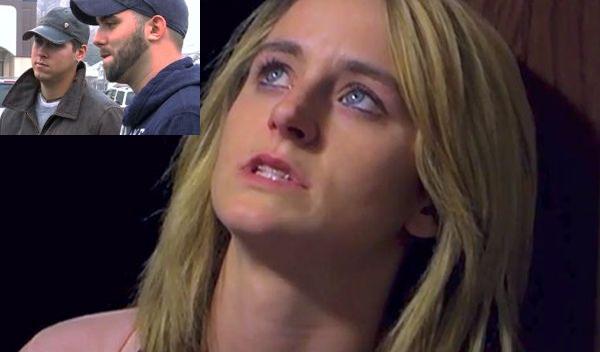 It's been a while since Teen Mom 2 star Leah Messer has gone on one of her trademark social media rants. (Who could forget this jewel of a rant from a while back?) This morning, however, she took to Twitter to express her anger over a sneak peek clip that's been circulating of next week's episode. Leah claimed that the scene, which featured her baby daddies Corey Simms and Jeremy Calvert meeting up to discuss their situations with Leah, was set up by producers to make her look bad.

In the the scene, which will be aired as part of next week's episode, Corey and Jeremy discuss Leah's prescription pill problem, and express their frustration that Leah won't admit she has a problem. They also talked about the relief they both felt once they divorced Leah.
"I was miserable," Jeremy says of his time being married to Leah. "She went from being normal to a complete 180…prescription pill problem."
"This drug issue that everyone knows she has was swept under the carpet and she don't want nobody to know where she went," Corey says of Leah's trip to rehab…er, therapy.
After watching the scene, Leah raged on Twitter about how the scene was fake.
"I talked to Jeremy the whole time … Jeremy can't stand Corey .. This was definitely SET UP and not even the truth," she tweeted.
The Ashley can tell you all that she is at least wrong about Jeremy hating Corey. The guys get along just fine. (As further proof, you can check out this photo, which was taken in July, well after this scene was filmed. The guys also follow each other on Twitter.)
Leah continued her rant, despite that calling out the show's editing technically goes against her MTV contract.
"Don't care if I do get in trouble this is BS .. I should open my mouth way more," she wrote. "In the scene you can tell Jeremy was looking over at a producer saying something about a prescription pill problem and no they weren't lol. And they edit it to where it looks as if he is saying that to Corey. I could go on but its best I didn't …"
But then, of course, she did…
"Not to mention Jerm just told me this scene was filmed before I even left the FIRST time lol."
Earlier this week, Leah claimed on Twitter that the recent story about her being stopped by the police for not having her daughters in car seats was untrue. Fans were quick to produce screenshots from the show that clearly show the twins riding in a car without car seats.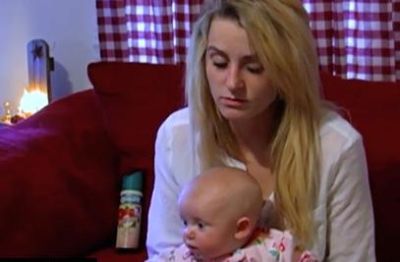 Leah then took the time to address several other Season 6 scenes in which she came out looking bad, particularly the scene in which she was filmed nodding off while holding her infant niece.
"That wasn't accurate either .. My brother was like… Wtf?" she wrote.
The Ashley needs to stop and give the 'Teen Mom 2' editors some major props. If they were able to superimpose a sleeping Leah's head onto a non-sleeping Leah's body and get away with it, they should win a ding-dang Emmy! (The Ashley is not disputing that many things on the show are recreated or set up, however.)
Leah also addressed the scene in which Jeremy yells at her for having her car stuffed to the ceiling with crap. In the scene, their daughter Addie is barely visible underneath all of the stuff on top of her.
"Addie was pulling the stuff down but that wasn't shown nor was it shown that I just got back from being out of town and had not unloaded my car yet," Leah wrote.
Corey and Jeremy have yet to comment on Leah's claims that the scene of their meeting was fake. Watch the scene in question below: