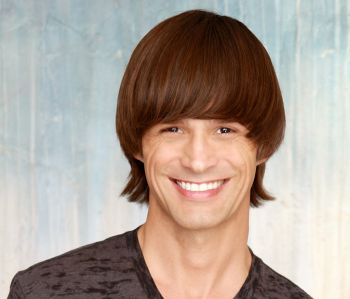 Snark-lovers rejoice! Bravo has announced that the third season of its hit reality/commentary show The People's Couch will premiere on October 6. The show, which features five different groups of people watching and commenting on TV shows, will return with eight hour-long episodes, according to The Hollywood Reporter.
The site also reported that all five cast groups will be returning for Season 3. (In case you haven't watched the show, the cast groups consist of friends Emerson, Blake and Scott; sisters Amanda and Kenya; retired neighbors Teddi, Ayn and Sue; the Resnick family; the Zeno family; sisters Cathy and Destiney; the Egber family; and best friends Julie and Brandy.
Star Emerson Collins, who makes snarky remarks about TV shows alongside his pals Blake McIver and Scott Nevins, gave The Ashley the lowdown on Season 3.
"I think all of us, from the cast all the way up to Bravo have been thrillingly surprised by the overwhelmingly positive reaction to the show," Emerson said. "TV watching is a communal experience for some people and a solo adventure for others, but we all have reactions constantly to what we are watching. I think the great love of the show is in seeing someone say exactly what you were thinking, or exactly the opposite and disagreeing with it!"
"The incredible variety of the cast means that regardless of what you think of a show, probably one of us agrees with you," he added.
Q: Do you guys have any interaction with the other groups from 'The People's Couch?' Who's your favorite to watch?
Emerson: We have all met and without exception the cast is delightful. I find myself guffawing at things from every single couch every week. I'm not just saying that out of some Kumbaya publicity perspective; the show works because everyone is rather awesome and I think the viewers see that. I have a special place in my heart for Brandy and Julie because I think Brandy and I represent the snarkiest end of the inappropriate spectrum on the show!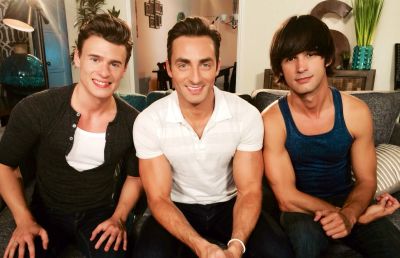 Q: Who would you love to sit on the couch and watch TV with?
Emerson: Cate Blanchett because– can you imagine?! But being serious, Bethenny Frankel. She's my favorite of all of the 'Housewives.' She's incredibly smart, hilariously unfiltered and she can turn a phrase into a soundbite better than just about anyone on reality TV!
Q: Do you get recognized by fans of the show? 
Emerson: Yes! My favorite thing about it is the incredible demographic range of the fans of the show. We're have fun doing it and that carries out. I had one man write me an incredibly sweet letter on Facebook about how his wife's chemo treatments were on Tuesdays and that she loved knowing she could come home and laugh along with our show at the end of a rough day.
Q: What's your favorite reality TV show?
Emerson: The Real Housewives of Everywhere always do it for me, when they stay out of real-life family struggles. I like my reality wine-fueled, unnecessarily dramatic and easily wrapped up come reunion time!
Q: What will we see on Season 3? 
Emerson: I just show up, sit down on the couch and let the snarky nonsense fly, so I plan to continue doing just that! No doubt we will continue our adventure through the buzziest fall shows, the greatest hits of reality TV and, of course, the random and weirdest shows on TV that you've never heard of.
Q: What do you do when you're not on The Couch? 
Emerson: I own a film production company with writer/director Del Shores and we produce his work as low-budget film, television and theater. I'm an actor first, so I'm performing the one-man show Buyer & Cellar at the Laguna Playhouse next year, and in the meantime, like every other actor, auditioning and hustling! I also do a radio show on LGBT news called "The Del & Emerson Show" on UBN Radio with the tagline "Straight Talk, Real Gay." I keep myself busy!  As for actual downtime, I watch TV. Too much.
Q: How awesome is it to be able to watch TV for a living?
Emerson: Let's be honest, we are the luckiest people in the world to get to be a part of something that people love for so many different reasons. We are all so grateful to Bravo for believing in it as more and more people continue to find it. I can't think of anything better than doing this with Blake and Scott, two of my favorite people ion the planet. I get to laugh and hang out with them and call it "work." I'm going to stop now because I'm dancing dangerously close to sincerity and if I were watching this I'm pretty sure I would roll my eyes and respond, "Okay queen, dial down the #blessed and move on."
To read The Ashley's interview with 'The People's Couch' star Blake McIver, click here!
Check out the trailer for 'The People's Couch' Season 3, premiering October 6 on Bravo.
#ThePeoplesCouch returns to @Bravotv October 6! Snarky nonsense shall commence with @scottnevins & @blakemciver! pic.twitter.com/oG2hO5g4XP

— Emerson Collins (@ActuallyEmerson) September 8, 2015