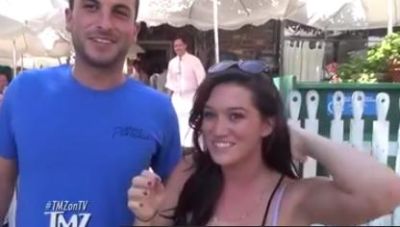 Jade Roper was the only girl on Bachelor in Paradise to leave Mexico with more than just a broken heart and a bad sunburn– she actually got an engagement ring. As fans of the show know, Jade and Tanner Tolbert got engaged during the season finale of the show.
The couple is still very much together, and spent this weekend in Los Angeles, presenting an award together at the Hero Dog Awards on Saturday, and lunching at The Ivy in Beverly Hills.
TMZ caught up with them as they were exiting The Ivy (which, by the way, is the place B- and C-list celebs go to eat, knowing that the paparazzi will be outside to photograph them).
Jade was very candid about her massive engagement ring– revealing that it was ABC, not Tanner, who shelled out the big bucks for it. She also revealed how long she has to stay with Tanner in order to own the ring, free and clear.
"ABC owns it for two years, and after that, if we're still together, we keep it," Jade told TMZ. "Or until we get married."
Years ago, the network implemented rules regarding the engagement rings that are given out on the show. Although they have changed the rules slightly in recent years, the contestants are still required to immediately give any show-provided engagement ring back to the network, should their engagement go belly-up before they make it down the aisle.
It's no wonder that ABC wants to keep tabs on its sparklers– they're worth big bucks! Jade told TMZ that the ring that Tanner gave her on 'Bachelor in Paradise' is worth a whopping $88,000!
According to People, Tanner gave his beloved beach bunny a two-carat Neil Lane ring with an emerald-cut diamond surrounded by 12 smaller round diamonds.
As TMZ's Harvey Levin pointed out, ABC has given Jade great incentive to stay with Tanner. She will essentially score something worth almost $100k just for sticking with him for two years. Of course, if the couple does get married, they will likely have their whole affair paid for (just like fellow 'Paradisers' Lacy Faddoul and Marcus Grodd did) if they allow ABC to film the wedding for 'Bachelor in Paradise.'
Watch the video below: