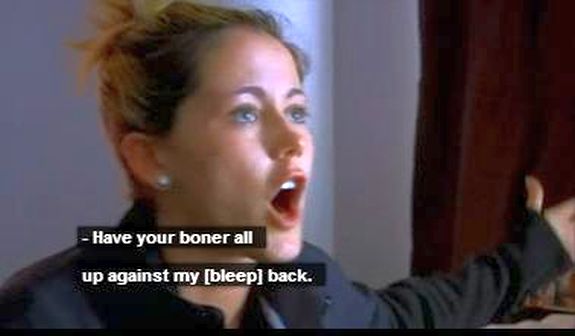 The sixth season of Teen Mom 2 is coming to an end, so there are only a few more episodes for The Ashley to recap! Dingdang it! What will we fill our time with when we can no longer gawk in amazement at Nathan's ability to cut the sleeves off of just about any article of clothing?!
We start off with Chelsea, who is once again dancing around her cabin with Cole. It's Father's Day weekend, so Aubree will be spending time with Adam, but she has drawn a Father's Day picture for Cole. Chelsea presents the picture to Cole because Aubree is too nervous to give it to him. Cole is flattered by the gesture.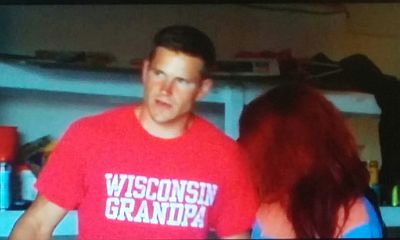 He is also a Wisconsin Grandpa, according to his T-shirt. (Is this a hip new band or something? Did all the kids stop listening to that Justin Beaver character and start liking Wisconsin Grandpa? Someone help The Ashley be hip.)
Next we check in with Kail, who calls up the long-lost Sterling to catch her up on all that's been happening. Kail tells her that Isaac's graduating preschool and heading to kindergarten, and that she's about to move to the mansion with the weird fence beds.
We then go to West Virginia to check in on Leah's girlseses. Leah, of course, is at "therapy," so Momma Dawn is left to wrangle Leah's litter of kids. There are babies crawlin' all over the living room, and Momma Dawn is trying to get them to keep quiet, because Leah's fixin' to call from the 'hab.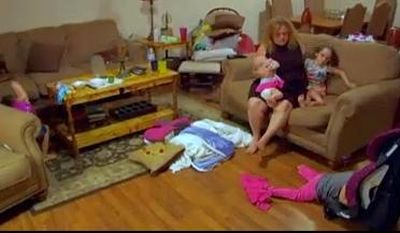 We know that these Messers ain't much for technology and whatnot, so Dawn's having some trouble figuring out how to use the dingdang iPad to pickup Leah's video chat call. Finally, all of the youngins gather 'round the screen just in time to see Leah beamed in. She's all dressed up like she's going for a job interview. (Apparently there's a dress code at the therapy rehab?)
There are so many kids that they are having trouble fitting around the iPad screen to talk to Leah, so Leah's sister Victoria holds it up.
"Ask Mommy how it's goin' up er!" Dawn tells Addie, who seems to be having trouble figuring out who the hell the fresh-faced lady is on the screen. It's been a long time since Addie saw Leah without her trademark eye droop and matted wig.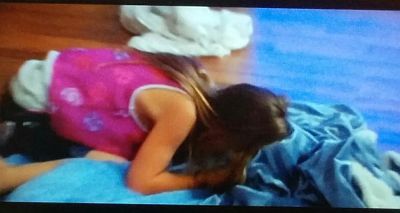 Meanwhile, the twin youngins are going batsh*t crazy for no apparent reason. Ali is crying and Aleeah has thrown herself head-first into a blanket that's randomly lying on the floor. Soon, she starts crying and rolling herself into the blanket, turning it into some sort of tear-filled taquito.
Leah, who is probably enjoying an MTV-funded quiet rehab room, is never going to come home if you guys show her this chaotic scene. They really should bring in Robbie Kidd and a giant box of Sour Patch Kids to put in front of the iPad screen. That will get Leah scamperin' home in a jiffy!
The girls kiss the iPad screen and all three end up in tears.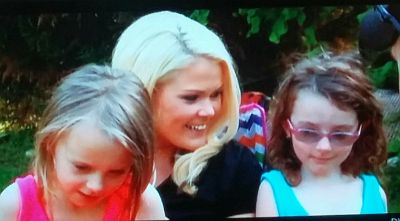 The next day, the twin youngins are at Corey and Miranda's house. They've recovered from the emotional video chat with Leah and are running wild in the yard when Corey calls them over. He tells the girls that he has a surprise for them and he and Miranda both have giant smiles on their faces. Corey shows them a sonogram photo and asks them if they know what it is.
They reveal that Miranda has a baby in her belly and the girls seem confused and sort of disappointed. It's the same look Isaac had when Jo told him that his "surprise" was that Daddy's girlfriend is knocked up. The girls don't seem to want any more babies around them and declare that they will not help change the new baby's diapers.
Finally, we catch up with Jenelle. As per usual, her intro monologue is amazing. Seriously whoever has the job of turning these girls' trainwreck lives into sweet, sane-sounding voiceover scripts really deserves an Emmy.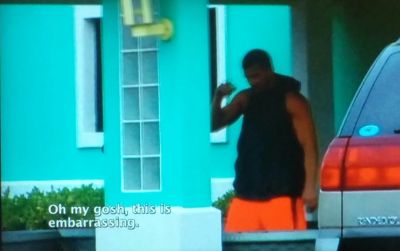 Jenelle tells us that she's stressed about going to court with the Babster, and that she's been letting Nathan give her the pickle tickle again, even though he may or may not still be with his gym girlfriend. (Nathan sure is the "Thighmaster" these days, isn't he? We gals just can't resist a man with 'roid rage!)
Jenelle tells no one in particular that Nathan is not going to play her. She storms over to Nathan's gym (which, for some reason, looks like the diner from 'Happy Days') and begins yelling at him as soon as he walks out.
Nathan has been plucked out of the middle of his bench press set and he's not happy about it! Jenelle screams at him for not answering his phone, but Nathan insists it's got a dead battery. (Hey, you post 45 gym selfies in a row and see if your phone battery is still charged!)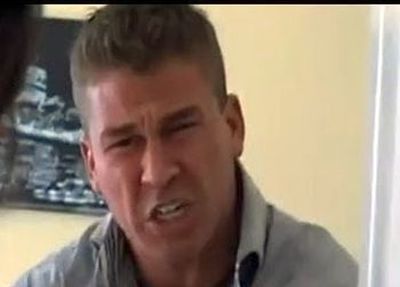 Nathan can't believe that Jenelle would dare go to his gym and bother him.
"I'M AT THE GYM!" he screams. "THIS IS MY TIME!"
Jenelle insists that Nathan must be hiding his fitness floozie inside the gym but Nathan denies that he's there with anyone.
Jenelle who, mind you, just drove to the gym after calling Nathan non-stop to scream at him, calls Nathan "crazy." Nathan insists that Jenelle is actually the crazy one. Seriously, you have no idea how mad it makes The Ashley to have to agree with Nathan, but he's got you there, Jenelle.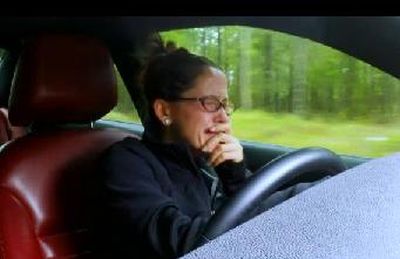 Nathan goes back to the gym to finish his set, leaving Jenelle to (of course) cry in her car. It's been a good episode or two since we've had a tear-filled driving scene and it feels good to be back to normal.
Jenelle heads back home to blubber. For some reason, MTV has chosen to play some sort of funeral music to go along with this scene. I'd imagine it's hard for the editors to find a musical accompaniment to go along with a scene described as "Jenelle finally realizes that nothing comes between Nathan and his gym time."
Nathan comes home to find Jenelle crying and tries to comfort her. He tells her that "gym time is me time" and that she called him at a bad time.
"I didn't even do abs!" he tells her.
Jenelle collapses into tears, knowing that her phone call wasn't important enough for Nathan to stop working out. But seriously, Jenelle, did you expect him to NOT DO ABS?! Come on!
"Where is this relationship, er friendship or whatever going?!" Jenelle wails to Nathan, who just gets up and walks away, protein shake in hand, to get away from the question.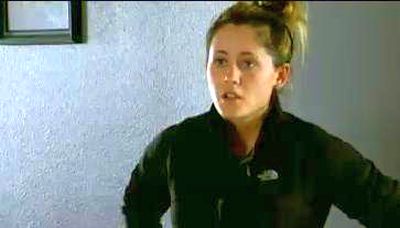 Jenelle protests that Nathan acts like he doesn't want her, yet just slept with her the night before.
"You had your boner all up against my back!" she yells.
Thank you, Jenelle. The image of an aroused Nathan sticking his, um, barbell up against you will forever be burned into my brain. I appreciate that.
Nathan and his boner go downstairs to get away from Jenelle, but she follows him. Nathan tells her that she's nothing special, and even though he rubbed said boner on her just hours ago, he wants nothing to do with Jenelle. Nathan starts using his weird high-pitched voice so we know he's really angry. Jenelle retreats into her bedroom to cry about how mean Nathan is.
This whole time we have not seen or heard a mention of Kaiser. Is he at home? Did Nate trade him in at the local GNC for a month's supply of sports drinks and Muscle Milk? Can we get a welfare check over here? At this point, I'm sure a Myrtle Beach police officer is just scheduled to sit outside of Jenelle and Nathan's madhouse at all times anyway so it won't be that difficult.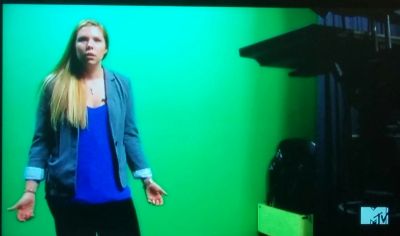 In Delaware, Kail is auditioning to be part of her college's news team. Since Kail has been in front of the camera since she was 16 (hell– she squeezed a human being from her loins on camera at one point!) she nails the audition.
It's cute that the teacher is pretending that he doesn't watch 'Teen Mom 2' and is acting like this is the first time Kail has been filmed. He encourages her to smile more. Didn't Dr. Drew tell her that like five years ago?
The teacher says that, although she flubbed some lines, he'll find a way to put her to work because…well, he wants to be on 'Teen Mom 2.'
The next day is Isaac's final soccer game. Jo is supposed to bring Isaac to the game, where Kail and Javi are waiting for him. Unfortunately, Jo forgets about the Big Game and doesn't bring Isaac. Hey, Jo's a busy guy these days–between his rap career, buying BMWs and knocking up his girlfriend, how can Kail expect him to remember a silly soccer game? Such is the life of a rap superstar, guys…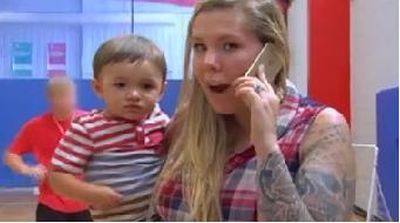 Of course, Kail is enraged when she finds out that Jo is going to make Isaac miss his last game. The final buzzer rings and there's still no sign of Isaac. Javi and Kail walk out of the gym, along with Javi's mom, who looks totally confused as to why she just watched a bunch of strange kids run around a gym kicking a dodgeball. Jo finally pulls up to deliver Isaac.
"You look upset," Jo tells Kail, completely oblivious as to why everyone is mad at him.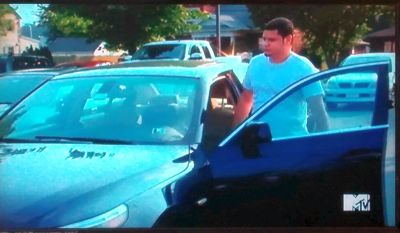 Later, Jo, ever the Father of the Year, misses another one of his son's events. Isaac graduated from preschool but Jo didn't attend the festivities. Come on, bro, even Adam managed to make it to his kid's graduation! Get it together!
Meanwhile, Corey and Miranda are chatting about how confused the twin youngins are in regard to Leah's whereabouts. (I mean, it's hard to explain that "Mommy is at a rehab that's actually therapy because she's not on drugs" to a five-year-old.)
Corey and Miranda have been noticing that Aleeah has turned into a tiny terror lately, mainly due to the fact that she's allowed to do whatever the hell she wants at Leah's trashpit. Corey thinks that having the girls live with him will allow them to learn some discipline and give them stability.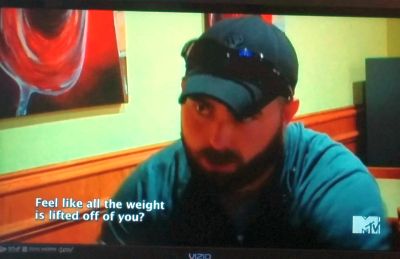 Later that day, Corey calls up Jeremy and they decide to meet up. They head to a restaurant, where they talk about what a miserable life-sucking force Leah was in both of their lives. Jeremy tells Corey that his divorce from Leah will be final the next day and Corey, remembering the magical day in which he was freed from the Mary Kay makeup-smeared hands of Leah, is empathetic.
The guys discuss Leah's "prescription pill problem" and talk about how ridiculous it is that Leah's still denying it. The guys are tired of Leah getting a pass for being a trainwreck because she's a woman.
Thank goodness for Jeremy and Corey! They are the only people who tell it like it is and are fighting for those girls to have a stable life.
"If it were us, we'd never see our children!" Corey says, with Jeremy adding, "We'd be crucified!"
Oh, you better believe that if it were Corey Tyler or Jeremy Lynn with the problem with the pillseses, Leah, Dawn and the whole dingdang Messer gang would probably be burning up their AOL dial-up connection to write things about them on the Internet!
The guys agree that they're both afraid that Leah's actions will harm the kids, and that there's no way that whatever therapy/rehab facility she's at is magical enough to cure her of her ailments in a month. (Post-rehab Leah had a sh*t-fit when she saw this scene. Click here to read more about that!)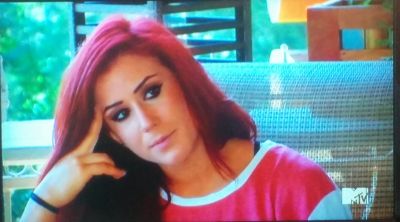 We go back to South Dakota to check in on Chelsea again. She and Cole are heading to Randy's cabin to celebrate Father's Day. (Isn't this the cabin where Adam knocked up Chelsea?)
Anyway, Chelsea is upset that Adam is taking off for the weekend and won't be spending Father's Day with Aubree. He's gone off to Denver, leaving Aubree with his parents.
Chelsea admits that Aubree has started referring to Adam as her "first dad." Chelsea wishes she could get rid of Adam altogether, but she's stuck with him. The lesson to be learned here kids is to be careful who you let bone (and impregnate) you at your parents' cabin.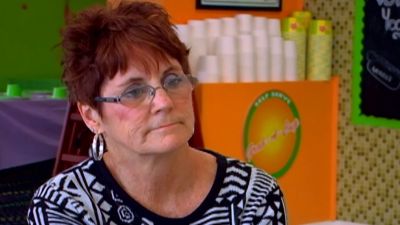 In Carolina, Jenelle is still reeling from her argument with Nathan. Since none of her trashbag friends are around, she calls up Babs for support. (Is Krista on house arrest or something? She never misses an episode!) Despite the fact that Jenelle has been quite the "bitch of a daughta" to her lately, Barb shows up for Jenelle. She and Jace come meet Jenelle for lunch and Jenelle tells Barb the whole sad saga.
Babs is sympathetic, and reminds her daughta that she can't trust Nathan. Barb, a single gal herself, reminds Jenelle that she is better off without a man anyway.
Que "All the Single Ladies!"
The next day, Nathan comes over to the Madhouse to pick up Kaiser but he brought The Other Girl with him. That, of course, doesn't set well with Jenelle so she and Nathan end up getting into "a huge fight." The following day, Krista rushes over to the Madhouse to get all the deets of the Nathan/Jenelle Showdown.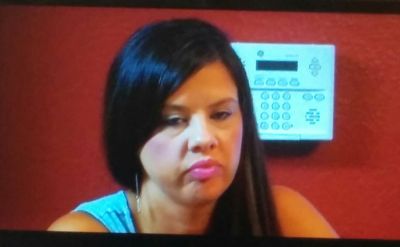 Jenelle explains that Nathan's truck bumper somehow ran her over…or something…and left her with a big bruise. But wait, there's more! After Nathan ran her over, he wanted to see Jenelle's phone, but Jenelle resisted. There was another wrestling match and Nathan grabbed the phone and scampered upstairs with it. (Seriously, for as much as these people wrestle, they should really join the WWF. I'd be down to buy tickets to their matches. Barb can perform "All the Single Ladies" during intermission. Just sayin'…)
Nathan, surely still angry because he didn't get to do abs, decided to go to the police station and press charges against Jenelle for the scratches she left on him during their wrestling match. A warrant was issued for Jenelle's arrest so she'll have to turn herself in the next day. Jenelle says that now that Nathan's betrayed her this bad, there's no coming back.
Unless he has a boner. Or wants to get back together. Or have another baby. Obviously.
In West Virginia, it's divorce day, y'all! Since Leah's still in therapy rehab, she'll have to be beamed into the court proceedings. (Hopefully this goes better than her video chat with the girlseses. It will be really awkward if Leah's lawyer wraps herself in a blanket and rolls around on the floor at the sight of Leah's face.)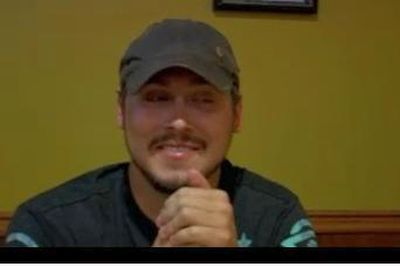 Jeremy and the lawyers arrive and get things squared away within the hour.
Meanwhile at Leah's house, the family is awaiting from a call from Leah. She rings up, and tells Dawn that she's learning coping skills in rehab therapy.
"I can't wait to get my hands on Ali and Aleeah though," she tells her mom.
Um…you're forgetting a girlseses, Leah. 'Member Addie, the one you stack jackets on in the car?
In South Dakota, Aubree has arrived home from her weekend with Adam Adam's parents. She tells Chelsea that Adam didn't pick up her calls when she tried to wish him a happy Father's Day. Aubree says that she wishes Adam acted like Cole.
"My dad having all those girls…" Aubree says, adding that most of Adam's galpals don't last long. "Then they're gone forever!"
Finally, we check in one last time with Jenelle. It's time for her to turn herself in to The Law, so she's meeting up with her lawyer. For some reason, Jenelle seems to be having a hard time keeping her eyes open while she chats with the lawyer. (Perhaps she's suffering from the same "stress and anxiety" that Leah has that causes her to fall asleep all the time?)

The lawyer says that Nathan doesn't want to press charges but the law is making him. Jenelle's facing 30 days in jail, and the possibility of having a felony on her record.
As our pal Kieffer would say, "Hey, being a felon ain't illegal!"
Jenelle doesn't want a felony charge on her record, though. The lawyer is completely exhausted by Jenelle's antics.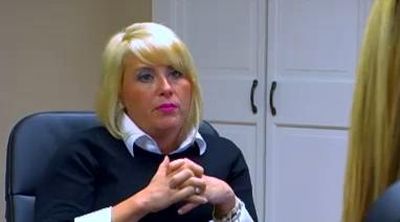 "You don't have to have a man to be complete," she tells Jenelle.
Again…didn't Dr. Drew tell her this like five years ago!?
I think Jenelle needs to go to therapy rehab with Leah. Can MTV get some sort of two-for-one deal if they send them together and put them in a room with bunk beds?
We end the episode with the image that's synonymous with 'Teen Mom 2': Jenelle's mugshot.
Next week is the season finale! The Ashley can't wait!
To read The Ashley's recap of the previous episode of 'Teen Mom 2' click here!
(Photos: MTV)