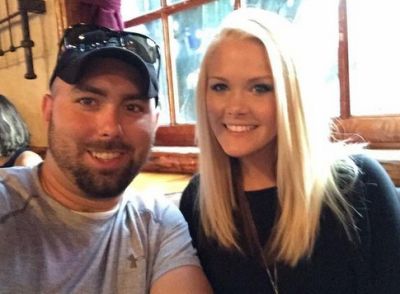 On a recent episode of Teen Mom 2, Corey and Miranda Simms told Corey's twin daughter, Ali and Aleeah, that they were expecting a baby. (The Ashley was the first to confirm this news earlier this year!) The Simms have been relatively tight-lipped about their upcoming arrival, but The Ashley has some news on Baby Simms that she can reveal.
Although reports surfaced last month that Miranda and Corey were expecting a boy, The Ashley can tell you that is not true. The baby is a girl! (Corey sure is good at making little girls, isn't he?!)
Baby Simms, who is due at the beginning of January, will be Corey's third child and Miranda's first.
The Ashley can also reveal that Corey and Miranda have chosen a name for their baby girl. Although The Ashley doesn't want to reveal the full name (out of respect for their desire to keep it private) she will say that Corey and Miranda are not continuing the trend that Corey and his ex, Leah Messer, started by giving their girls names that start with the letter "A." From what The Ashley hears, Corey and Miranda have chosen a name that begins with the letter "R."
Corey and Miranda were staying mum on their baby's gender back in July when they came to Los Angeles for the 'Teen Mom 2' Season 6 reunion. A source tells The Ashley that Leah's family (most of whom do not get along with Miranda at all) got very upset when Miranda and Corey wouldn't tell them the baby's gender. (It's not known if the Simms even knew the gender at that point, though.) The source says that while at the reunion Leah's mother, Dawn Spears, told several people that she hoped the baby was a girl, since she knew Corey has always wanted a boy. 

Although 'Teen Mom 2' was picked up for a seventh season, it is not yet known if Corey and Miranda will sign on again. It is rumored that Corey has quit the show, but The Ashley can't confirm or deny that (yet).
Miranda has caught a lot of flak from 'Teen Mom 2' fans this season, but one member of the behind-the-scenes crew tells The Ashley that the hate is completely undeserved.
"Miranda and Corey are some of the nicest, down-to-earth members of the whole cast," the source told The Ashley. "Miranda loves the twins like her own children and has done more for the kids than anyone will ever know."
Fingers crossed that we will get to see Corey's new baby girl on 'Teen Mom 2' Season 7!
(Photo: Twitter)