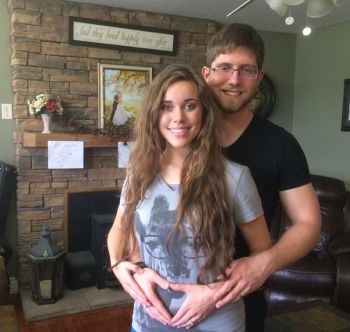 Former 19 Kids and Counting stars Jessa and Ben Seewald made an appearance at the Southern Woman's Show this weekend, hitting the stage to talk about their marriage and the upcoming birth of their first child. (All questions concerning Jessa's p0rno-addicted big bro, Josh, were off limits, of course. Dammit.)
During the show in Orlando, 35-weeks-pregnant Jessa revealed some details about her pregnancy. She later followed it up with a blog post in which she revealed her birth plan for the baby.
"I know [having a baby] is going to change our lives dramatically," Jessa told the audience on Saturday, according to ET. "It's going to be huge. [Ben and I] were just talking logistics of travel. Right now, we packed all of our stuff in a little suitcase for this weekend trip, and I was like, man, when you have a baby! Our friends have been warning us, 'You're going to have car seats and strollers and a huge bag for all the baby stuff."
Of course, Jessa's quite familiar with the changes that comes when you have a baby. After all, she watched her parents have 14 babies after she was born. Jessa and Ben did reveal, though, that they do not plan to follow Jessa's parents' lead in terms of litter size. Jessa confirmed that she does not want to have 19 children. The couple also revealed that they will not follow the trend Jessa's parents started (and her brother Josh and his wife Anna continued) of giving their babies names that all start with the same letter.
"We thought to ourselves, if we do that, we'll kind of limit our name selection," Ben said. "We thought maybe we'll keep our options open."
Jessa and Ben have not yet announced if they're having a boy or a girl.
In a blog posted yesterday, Jessa opened up about her plans to have a home birth, just like her big sister, Jill Dillard, had planned. (Of course, Jill's plans for a home birth went to hell as soon as she started to have complications with her birth.)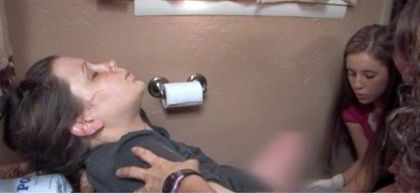 "Our plan is to have a home birth. We have lots of relatives and friends who have had wonderful experiences with giving birth at home, and we are excited and hopeful that our experience will be the same," Jessa wrote. "But we also realize that sometimes (as in Jill's case) a transfer to the hospital may be necessary, and our birth plan definitely includes a plan B."
Jessa will be giving birth at the house that her sister-in-law, Anna, birthed out two babies (one on the toilet!) It is not yet known whether Jessa's sister, Jill, will help with the birth. Jill recently became a Certified Professional Midwife, but may be back doing mission work in Central America by the time Jessa gives birth.
We'll most likely get to watch Jessa shoot the kid from her loins, given that TLC just announced that they will be airing specials about Jessa and Jill.
Click here to read a first-person account of Jessa's appearance at the Southern Woman's Show in Memphis back in March.
(Photo: Instagram, TLC)