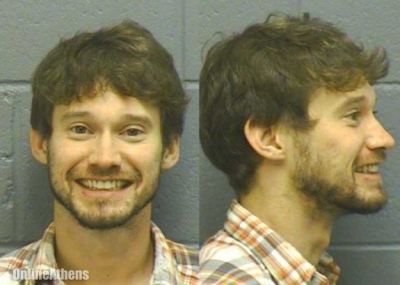 Another MTV reality star has landed themselves behind bars after a night of drinking.
Cohutta Grindstaff, star of MTV's The Challenge (and previously Real World: Sydney) was arrested last night for DUI in Athens, Georgia. Cohutta, best known for his "aww shucks" personality and thick Southern accent, was picked up by police after he got his dingdang truck stuck on a wall! (Don't you hate when that happens?)
Police were summoned to the area by the tow truck driver, who knew that something fishy had gone on.
"He saw a Ford F-150 had backed over a retaining wall with one wheel suspended in the air and unable to move," the responding officer noted in his report, according to OnlineAthens. "The truck's driver's side door was open, and Grindstaff was sitting on the retaining wall next to his vehicle."
The officer reported that an intoxicated Cohutta tried to lie his way out of getting a DUI, stating that he wasn't the person driving.
"Grindstaff reportedly said a friend had been trying to take him home when the friend backed over the wall, and that the friend, 'Ryan,' ran off because he didn't want to go to jail," the site reports. "The officer then asked Grindstaff to call his friend, and he saw the name 'David' appear on the phone when Grindstaff was supposed to be dialing Ryan's number."
Eventually, Cohutta gave up the charade and admitted that he had been driving after drinking "at least six or seven beers" during a work party. The officer noted that the MTV star stank of alcohol, couldn't perform the roadside sobriety tests he was administered and even had an open flask of alcohol in his truck. (Hey– you have to save something for later, right?!)
After it was found that Cohutta had a .20 percent blood-alcohol concentration (Georgia law prohibits driving with a blood-alcohol concentration over .08 percent), Cohutta was arrested and charged with DUI, improper driving and possession of an open container of alcohol in a vehicle.
As you can see from the photo above, Cohutta took what could be the happiest mugshot ever taken in the state of Georgia. He was released from jail after paying a $2,250 bond.
As The Ashley told you a few months back, Cohutta will be appearing (alongside his cousin Jill) in the upcoming season of The Challenge. The season, which is called "Bloodlines," will feature 'Challenge' cast members who have all brought a family member with them on the show. Click here to get more details on the next 'Challenge!'
(Photos: OnlineAthens, MTV)