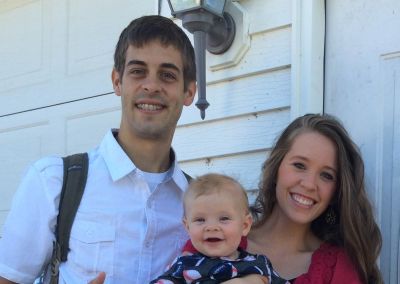 By Holly Rasmussen
Over the past few months, Jill Duggar and her husband Derick Dillard have been accused of misusing money that was donated to their new ministry charity. After months of silence on the topic, it seems that the couple is finally responding to the claims.
The couple recently noted on their family website that they are now accepting requests for refunds from fans who have donated to Dillard Family Ministries.
As we've previously reported, Jill and Derick have come under scrutiny over the past few months for their missionary work (or seemingly lack thereof). Back in June, the couple went to Central America to become long-term missionaries in El Salvador. Their trip was mostly funded by donations from private citizens via their website.
However, fans were not happy to see the couple making numerous trips home to the United States, seemingly using the donations (which appears to be the couple's only source of income since TLC cancelled 19 Kids and Counting) for their travel expenses. Fans were also upset that Jill and Derick have made no announcements about how the donations are being spent, so many fans took to the couple's Facebook page to demand answers.
While Jill and Derrick have still not made any official announcement regarding how the money is being spent, they recently took down the tab on their family website that talked about Dillard Family Ministries. The donation page, however, remains intact, with the addition of the sentence about them offering refunds. So, if you want your $15 minimum donation back, let them know! (Anyone else think that Jill's dad, Jim Bob, is probably having a stroke over the potential loss of grifted funds?! )
Despite the controversy surrounding the Dillards, TLC will be going ahead with a series of specials that will air later this year and follow the couple on their journey to become missionaries. However, it will be hard for TLC to capture that footage, given the fact that Jill and Derick are currently home in Arkansas on vacation, and have been for weeks.