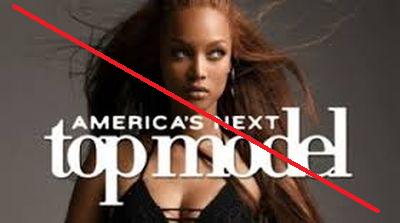 The CW has (finally) pulled the plug on America's Next Top Model. After 22 seasons, 'ANTM,' which is one of the longest-running reality TV shows on the air today, has been canceled.
The president of the network announced that the current season will be the show's last. Yes, kids, this means that Tyra Banks has sent out her last piece of "Tyra Mail."
"''America's Next Top Model' was a successful franchise for two networks, first at UPN and then The CW, and it became not just a ratings hit, but a global pop culture phenomenon," Mark Pedowitz said in a statement. "I want to thank Tyra and [producer] Ken [Mok] for all their years of success in establishing a show that was not just popular in the U.S., but all across the world."
Over the years the show, which has been running continuously since it premiered in 2003, has seen 14 different fashion industry icons serve on the panel, and spurred at least 32 international versions. (There's a 'Top Model' show everywhere from Serbia to Singapore!)
Tyra released a statement after the news of the show's cancellation broke. True to form, Tyra's statement contained a bunch of made-up phrases she coined on the show. (Tyra, stop trying to make 'smize' happen. It's not going to happen.)
Here's the statement in full:
Thinking #ANTM#cycle22 should be our last cycle. Yeah, I truly believe it's time. Our diehard fans know we've expanded the definition of beauty, presented what Flawsome is, tooched and booched and boom boom boomed, shown the world how to show their neck, rocked couture/catalogue/commercial poses, have found our (and your) light, strutted countless runways, gone on tons of go-sees, added guys to the girls mix, and have traveled around the globe and back again. Yeah, it's time. It really is. Wow, I am SO proud of what Top Model has done. #ANTM brought the intimidating modeling world to the masses. We were the first reality show based in the fashion world. I never thought my little idea would have people everywhere thinking differently about how they take photos. And I never thought we'd do 22 cycles. Whoa! So many!!! And what rhymes with 22? You. And you and you and you and you! YOU made Top Model what it is. We are a global force that has so many international versions around the world because of YOU! That's amazing and beyond anything that I ever dreamed. I set out to create a show where Perfect is Boring. So I hope you continue to love your freckles, your moles, your big forehead, your big eyes, your small eyes, your pointy chin, your tiny boobs, your full chest, your ivory or ebony skin (or every color in between) – the stuff about you that makes you well…you. And I hope you've learned a heck of a lot from watching. I have an inkling you have. May your photos (and selfies) be forever fierce. May you always find your light. And may you werk hallways like runways. Always remember, you are beautiful & BOOTYful. And please, keep on Smizing each and every day for TyTy. Fierce & Love, Tyra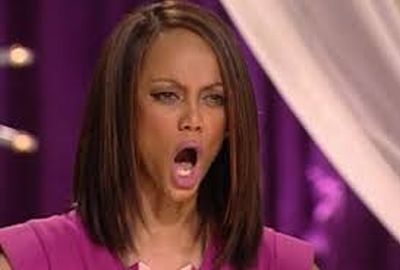 Former 'ANTM' cast members posted their thoughts on the cancellation.
"Oh wow! Well you created a show that lasted longer than a decade&had a longer run than most!Glad I was apart of it!" Shannon Stewart, who competed on the show's very first season, tweeted to Tyra.
Isis King, who was the show's first transgender contestant, tweeted that she was "honored to be part" of Tyra's "story."
The ratings for 'America's Next Top Model' have steadily declined over the past few years. The show, which averaged more than 6 million viewers during its second season in 2004, posted a meager 1.56 million viewer average during its most-recent season in 2014.
The final season of 'America's Next Top Model' is currently airing on The CW.
(Photos: The CW)