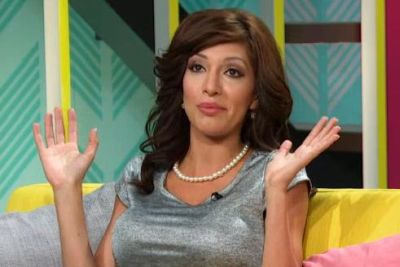 Farrah Abraham's home in Austin, Texas, may have four bathrooms, but the Teen Mom OG star refuses to allow any of the show's production or camera crew in them! The Ashley's production sources tells her that Farrah, who is currently filming the next season of 'Teen Mom OG,' has ruled that the crew cannot use the bathrooms inside of her massive home, forcing MTV to rent portable toilets every time they go to film Farrah!
According to The Ashley's source, Farrah feels that the 'Teen Mom OG' crew shouldn't use her toilets.
"She flat-out refuses to let any of the crew use her bathrooms, even the producers who have been with her since the 16 and Pregnant days," the source tells The Ashley. "She doesn't really go into specifics, but the whole crew knows better than to use Farrah's bathroom!"
The Ashley's source tells her that, while having a crew of about 10 people using your bathrooms during filming can be somewhat of a hassle for the girls, the crew does their best to be courteous and respective to the girls' homes.
"We always ask before we use [their bathroom]" the source tells The Ashley. "We try not to intrude."
Having to rent Port-a-Potties for the crew to use during Farrah's shoots sounds like a big pain. Luckily it doesn't appear that any of the other 'Teen Mom OG' girls feel the way that Farrah does about sharing her bathroom. In fact, Farrah's co-stars have stated in the past that they are very close to the crew.
"They're like family," Amber Portwood told MTV News of the crew. "They're like distant cousins that come every other week."
Farrah hinted that she disliked having the camera crews in her home during last season's "Unseen Moments" episode. When it was brought up that additional crew members are usually sitting in vans outside the house during a taping, and Farrah expressed her feelings on the subject.
"I don't understand why there are so many people [in my house], instead of staying in the vans," she said. "I'm just weird I guess. I guess I'm not so friendly all the time."
Farrah…not friendly? Who could even imagine?
During the same segment, 'Teen Mom OG' stars Maci Bookout and Catelynn Lowell stated that they have no problem with the crew using the facilities in their homes.
"They're like, 'Um, can I use your bathroom,' and I'm like, 'I've known you for like eight years. Yes you can use my bathroom!'" Maci said.
Unfortunately for the crew chosen to film Farrah, when nature calls, they're shown the um, back door, to head to the Port-a-Potties!
As The Ashley told you a few months ago, 'Teen Mom' has been renewed for a sixth season and is said to premiere early next year.
(Photo: MTV)