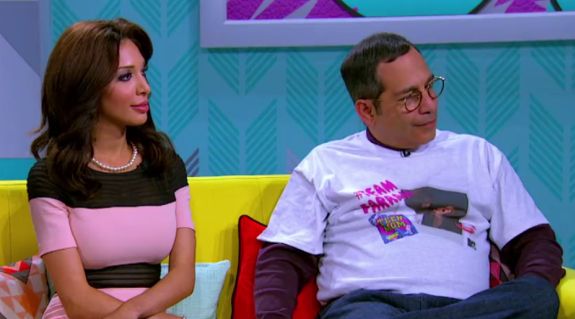 Farrah Abraham may have starred in two very successful adult movies….er, "leaked sex tapes," but that doesn't make her a p0rn star, according to her father, Michael Abraham.
After Teen Mom 2 star Chelsea Houska joked during this week's "Unseen Moments" episode that a good p0rn star name would be "Farrah," Michael responded to the comment in a new interview with Real Mr. Housewife. 
"Farrah is not a p0rn star," Michael told the site. "A p0rn star is a person that has made countless adult movies and works and invests major time in that industry to make more and more movies."
Sorry, fans, but there will apparently be no more "Backdoor" Farrah films to look forward to…
"Farrah has not nor will not [make another film]," Michael added. "Yes, Farrah's adult movies are some of the highest money-earning videos in history but she is not a p0rn star."
Michael explained that his family and Farrah have moved on from the sex tape scandal.
"We practice unconditional love, forgiveness, and hope in our family," he said. "The mistake which Farrah admits to was over three years ago and we have moved on to new things."
Chelsea later clarified on Twitter that her comment was meant to be lighthearted and not meant to be a dig at Farrah.
"I actually like Farrah, and I'm glad she is successful!" Chelsea tweeted.
In his interview with Real Mr. Housewife, Michael applauded his daughter for leaving what could have been a very lucrative career in the adult industry.
"It's sad that women don't see the real successes Farrah has made," Michael said. "The big one [is] breaking away from the adult video industry and making the mistake … Lemons… Into lemonade… She is a survivor!"
Last year, Farrah told In Touch Weekly that doing the "Backdoor" sex tape (and its spin-off, which contained unused footage from the original movie's shoot), was a major mistake.
"If I went back in time, I would not have done it. The sex tape ruined my life. … Knowing my sex tape was out there for everyone in the world to see … was overwhelming," she told the magazine. "I wanted to hide my face and not go out or pick up my phone."
However, Farrah followed up the tapes with appearances at adult conventions and clubs, as well as a sex toy line that she continues to produce products for.
As you do.
(Photo: MTV)