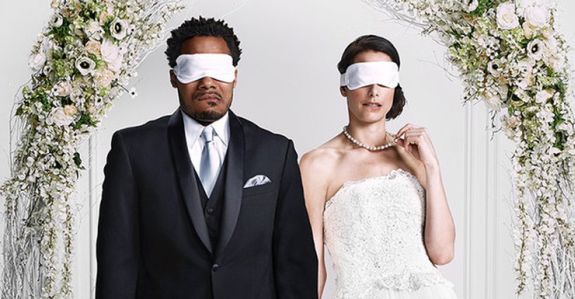 Can Married at First Sight move past its disastrous second season?
FYI and A&E, the networks behind the reality show, are hoping so! The networks announced this week that the show's third season is set to premiere in December. The show will feature three new couples who have been matched by the show's team of experts.
As the show's fans will remember, all three of the couples matched for Season 2 decided to end their relationships and get divorced. It got particularly nasty in the case of Season 2's Ryan DeNino and Jessica Castro. Jessica accused her husband Ryan of threatening to kill her and her family, among other things. There was also some major drama behind-the-scenes of the Season 2, causing many fans to fear that the show would be canceled. However, the third season was already cast and in the works by the time the scandal hit back in June, so cancellation was unlikely.
There will be some changes for Season 3, however.
For the first time, casting took place in Atlanta, instead of the New York/New Jersey area. In a press release, A&E announced that Season 3 will consist of 13 episodes. The episodes have been extended to an hour and 15 minutes. (The season premiere will run a lengthy 2 hours and 15 minutes!)
All of the show's experts– sexologist Dr. Logan Levkoff, psychologist Dr. Joseph Cilona, sociologist Dr. Pepper Schwartz and spiritual adviser Greg Epstein— have signed on to appear on Season 3 and "guide" the new couples toward marital bliss.

'Married at First Sight' Season 3 premieres December 1. The two successful couples from Season 1– Jason Carrion and Cortney Hendrix; and Jamie Otis and Doug Hehner— are currently starring on the spin-off, 'Married at First Sight: The First Year.'
Of course, The Ashley is working on getting you some spoilers for the new season. From what she knows so far, this season will be juicy! Stay tuned!
(Photo: A&E)