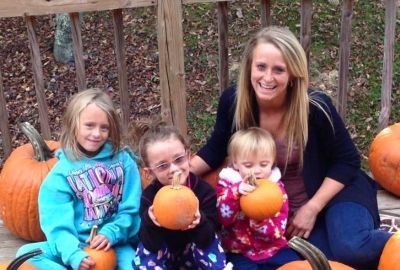 In Touch Weekly dropped a bombshell on the Teen Mom world this morning, when it released an article declaring that Teen Mom 2 star Leah Messer lost primary custody of her twin daughters, Ali and Aleeah, last week.
The magazine stated that Leah, who has denied having a drug problem, was taken to court by her ex-husband, Corey Simms, earlier this month and a judge ended up awarding Corey primary custody of the twins. Corey first tried to get custody of them last year, as he believed that Leah was struggling with addiction issues, while frequently putting the kids in danger. They were also frequently tardy (or absent) from school and Ali's therapy appointments.
"Leah's really been screwing up since then so Corey took her back to court," the magazine's source stated. "The judge looked at the girls' school records, which show that they've been late for school, and made the change in custody… Leah only gets the girls on the weekends now."
The magazine also claimed that Leah's other ex-husband, Jeremy Calvert, is attempting to get custody of Addie, his two-year-old daughter with Leah.
"Everyone is very worried about Addie," the magazine's source claimed. "She recently wandered out of the house while Leah was distracted.Thankfully, a police officer found Addie and brought her back home."
OK, so here's what The Ashley can confirm and what she's working to confirm:
-Corey and Leah did indeed have a court hearing last week, so it is very likely that this was the outcome of that hearing. The Ashley's source tells that last month, Corey was alarmed by some of Leah's actions, and was trying his best to finally get custody of the twins. Furthermore, In Touch would not print a story like this if it were not true, as they could face legal issues for doing so.

-The Ashley can confirm that the incident with Addy did happen. The Ashley's source tells her that this incident happened about a month ago and it scared Jeremy a lot.
-The Ashley can also confirm that Jeremy is, indeed, going to try to get primary custody of Addie. This was something he wanted long before the Addie incident, but it surely lit a fire under him to get to work on it. The Ashley's source tells her that Jeremy is willing to change jobs, if necessary, to get custody of Addie. (He currently works out of town for days– and sometimes weeks– at a time.) Jeremy is still currently using the same lawyer that helped Corey with his custody case. (Who could forget good ol' Rusty Webb?!) 

Leah has not yet commented on In Touch's report. She did, however, post a few tweets this past weekend about getting to spend time with her girls.
"We are having a fun filled weekend together. ENJOYING each other as a family. At the end of the day that's what matters most!" she wrote.
Leah also posted photos of her and the girls carving pumpkins over the weekend. 

This change in primary custody will also likely affect the amount of child support that Leah receives from Corey every month.
The Ashley is working to get more info on this story and will update when she has more details.
(Photo: Facebook)