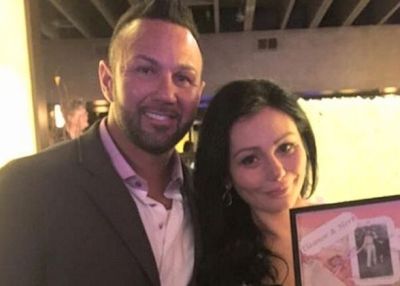 The cast of Jersey Shore was fist-pumping in excitement over the weekend, in celebration of the wedding of Jenni 'Jwoww' Farley and Roger Mathews. The longtime couple tied the knot on Sunday, with nearly all of Jenni's 'Jersey Shore' co-stars in attendance for the big day. The couple, engaged since 2012, celebrated their marriage at the Addison Park venue in Keyport, New Jersey.

While Jenni and Roger have kept their wedding day photos off of social media (for the most part), their wedding guests were more than happy to share photos from the day on Instagram! (Jenni and Roger are most likely scoring a big payday for selling the exclusive rights to their wedding photos to a tabloid, which is why they aren't posting them online yet.)
Here's what we know about the big day so far:
Guests: All of Jenni's 'Jersey Shore' roommates were in attendance, except for Mike "The Situation" Sorrentino, who is not on great terms with Jenni or her BFF, Snooki. (He was excluded from Snooki's November 2014 wedding as well.) Snooki, as well as Deena Cortese and Sammy Giancoloa served as some of Jenni's bridesmaids. Also in attendance were 'Bachelorette' stars Trista and Ryan Sutter, who appeared on Marriage Boot Camp with Roger and Jenni recently.

Dress: Little is known about Jenni's dress (except it was "big," according to her Instagram posts), but her bridesmaids were dressed in floor-length purple gowns with black trim. Two of Jenni's male friends also served as bridesmaids; they wore black suits but held purple bouquets. Somehow, Jenni and Roger have managed to keep photos of themselves in their wedding attire off the Internet (for now, anyway).
Reception: Roger and Jenni gave their guests personalized coffee as favors. They also had a photo booth for guests to enjoy. The reception hall had purple backlighting, with large floral centerpieces at each table.
Big Surprise: During their reception, Jenni and Roger announced that Jenni is pregnant with their second child. (Their daughter Meilani is one.)
"We wanted to announce to all of our guests that we are expecting, [so our wedding planner] Robynne surprised us with her idea of the photo blown up and Meilani being wheeled out in a flowered wagon by Angela's Fantasy Creations," Jenni told People. "Roger and I both cried when we saw the announcement. This was one of the best days of our life."
Check out some of the photos that have been posted of Jenni and Roger's wedding so far. (Click the thumbnails to enlarge the photos.)
(Photos: Instagram)